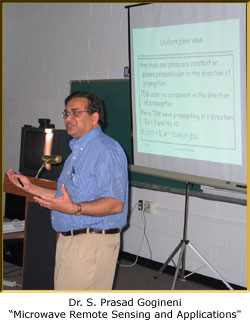 The Center of Excellence in Remote Sensing Education and Research (CERSER) hosted several events centered around remote sensing education and research from November 12-14, 2003. More on each of these events can be seen by selecting the links above.
The events started on the 12th with a presentation by Dr. Malcolm LeCompte, "Views & Visualization of Earth from Space". This lecture took place in room 116 of Lester Hall.
The following day started with the CERSER Capability presentation followed by GEMS & CERSER research presentations in room 229 of Dixon Hall. Various members of each section presented current research and capabilities of their sections.
This was followed by a presentation on the National Science Foundations Science and Technology Center Initiative. Dr. S. Prasad Gogineni, of the University of Kansas delivered this presentation.
The afternoon of the 13th saw two concurrent events in Dixon Hall. In room 229, CERSER hosted a NASA's Earth Science Enterprise Cyberconference during which the initial draft of the new MU-SPIN Cooperative Agreement Notice (CAN) proposal was presented. At the same time, Dr. Dionne Hoskins of Savannah State University met with student researching graduate school opportunities.
In the late afternoon Dr. S. Prasad Gogineni delivered a presentation entitled "Microwave Remote Sensing and Applications" as part of the CERSER lecture series. This was followed in the evening by a MU-SPIN Startegy session and the first meeting of the ECSU IEEE-Geoscience and Remote Sensing Society Chapter meeting.
On the last day of the fall events, Dr. S. Prasad Gogineni led students and faculty through training in Microwave Remote Sensing.
C E R S E R
Center of Excellence in Remote Sensing Education and Research
232 Dixon Hall, Box 672 ECSU, 1704 Weeksville Rd Elizabeth City, NC 27909
Phone: (252) 335-3992 Fax: (252) 335-3572