On September 23, 2014 Dr. Linda Hayden attended the 41st Annual National Organization for the Professional Advancement of Black Chemists and Chemical Engineers (NOBCChE) Conference as a representative of the Science Gateways Institute. Dr. Hayden is the Director of Elizabeth City State University's Center of Excellence in Remote Sensing Education and Research (CERSER) and leads the NSF Science Gateway Institute workforce development efforts.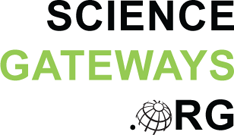 The NOBCChE conference brought together distinguished research scientists, promising young investigators, outstanding student members and young professionals for interactive and informative meetings. The NOBCChE Professional Development Program utilizes the collective experience of members and current information relevant to academic and corporate success to prepare students and professionals to excel in their chosen fields.
The Science Gateways Institute sponsored four student presentations in computational chemistry.
Quinea Lassiter
University of Arizona - Graduate Student
The Role of Chemical Co-Solvents on G-Quadruplex structures in the c-MYC and VEGF Proto-oncogene Promoters

Jamarius Waller - Senior
University of Mississippi
Using DNA Computational Design to Construct and image Nanostructures

Jessica Haley - Graduate Student
Vanderbilt University
Examination of the Aggregation Behavior of Polymer Grafted Nanoparticles Using Molecular Simulation and Theory

Marquita Watkins - Graduate Student
Jackson State University- PhD
QSPR-based Melting Point Estimation of Various Persistence Organic Pollutants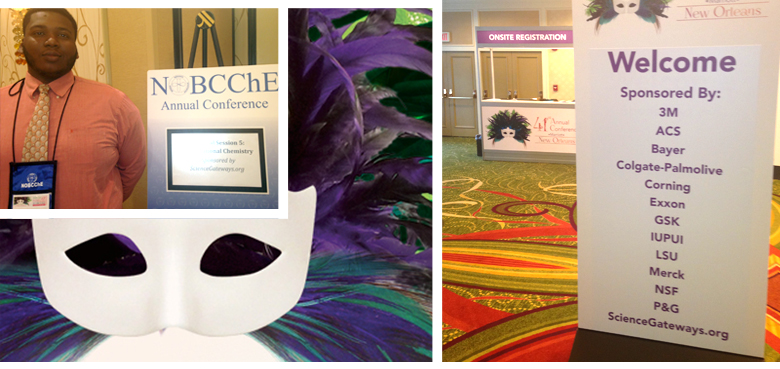 ---
ScienceGateways.org
A collaboration of
six universities
, led by:
San Diego Supercomputer Center University of California at San Diego
9500 Gilman Drive La Jolla, CA 92093-0505
USA 858.534.5118

info@sciencegateways.org
Dr. Linda Hayden
NSF Science Gateway Institute Workforce Development
NSF Award # OCI-1216668