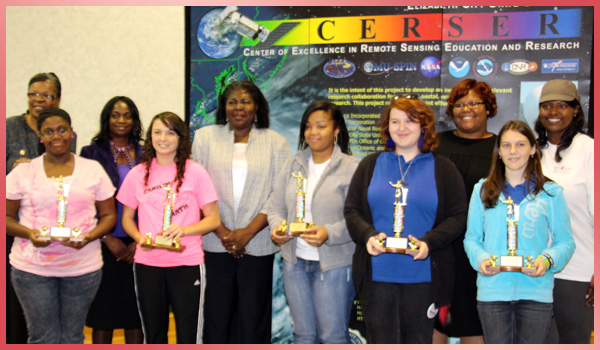 The "I Want to be Like Her" essays are a chance for girls to read about the success stories of women in mathematics. They then write a short essay on why they could look up to and follow women who have oversome hardships and striven for success in their fields. The five essays below were chosen from all of the essays submitted as the winners in this years celebration.

1st Row L to R: Kendra Watson, Joanna Revels, Angelica Marshall, Jamiya Garett, Jordan McDaniels

2nd Row L to R: Dr. Cheryl Jackson-Lewis, Ms. Angela Mason, Ms. Nina Jackson, Dr. Farrah Jackson, Ms. Tannilla Williams
1st Place :: Jordan McDaniels :: 10th Grade :: Camden County High School
Debbie Schenberger :: NASA Mechanical Engineer

Debbie Schenberger is a very successful woman. She's hardworking and when she isn't busy with her own job, she focuses on helping other member of her NASA team. Debbie is married with two children, and somehow manages to balance her workload with her family life. She inspires me because even though she was told by multiple adult figures throughout her life that her dreams might be too "difficult" for her, she perused then anyway. Debbie could be considered a role model for young women everywhere because of the fact that she was the girl in class who was overlooked academically, and yet she proved her intelligence in the end. She was one of the only female students in her college courses but she never allowed herself to feel discouraged. To have Debbie's outlook on life and even an ounce of her motivation would be a blessing for any girl who is aspiring to have a successful career.
2nd Place :: Jamiya Garett :: 11th Grade :: Bertie STEM High School
Debbie Schenberger :: NASA Mechanical Engineer

I want to be like Debbie Schenberger because she is a successful mechanical engineer who happens to be a female, which is what I am aspiring to be when I go to college. I am like Debbie in many ways since I too face negativity from people who believe that engineering is a male only field. She overcame those obstacles and proved everyone wrong, which is why I want to be like her. I look up to Debbie Schenberger because, like me, she excelled in math and science in high school. Even with what people said she pushed through.
Debbie spends most of her time building things, which is what I love to do. I want to be like her because she has her successful career, but is still able to enjoy her life. Debbie Schenberger is a prime example to all women that that they can make it in a male-dominated industry. She has inspired me to stick to my dreams of a successful mechanical engineer.
3rd Place :: Angelica Marshall :: 11th Grade :: Plymouth High School
Rosa Grymes :: Research Scientist

I would like to be Rosa Grymes, because she is fulfilling her dreams and helping others along the way. Grymes works a lot with academic institutions and non-profit programs, which I hope to do myself so I can further benefit with younger generations to help them have better futures. Tons of children lack a good education because of many factors at home and at school. Science is also a big part of my life just like Rosa Grymes. My biggest goal in life is to become a Forensic Scientist. Though it may not be the same kind of scientist she is, I hope to pursue my dreams and make other people's dreams come true. I will work hard and try my best to make a better future for everyone.
4th Place :: Joanna Revels :: 10th Grade :: Plymouth High School
Christine Munoz :: Mac/PC System Administrator

Christine Munoz's childhood helped to make her the strong woman that she is today. She works on computers, and loves that its always different. When she was younger, her father left and her mother always treated her and her sister as second best to her brothers. She pushed through high school and became the first one in her family to graduate. Through all the struggle she learned never to lose sight of herself, never forget her self worth, never give up on herself, never let others tell her what she could not do and never stop learning. She also encourages the rest of us to strive for these things because, "life is a challenge…who you are and who you become depends on how you handle those life challenges."
5th Place :: Kendra Watson :: 8th Grade :: Camden Middle School
Denise Stephenson-Hawk :: NASA Scientist

Denise Stephenson-Hawk has inspired me to be whoever and whatever I want to be. I should not feel negative about what I can and cannot do because of the color of my skin. I have always tried my best, but from this moment forth I will strive even harder to complete and accomplish my goals in life. Denise Stephenson-Hawk is and always will be my inspiration.