RESEARCH EXPERIENCES

2003 Undergraduate Research Experiences in
Ocean, Marine, and Space Science
May 27, 2003-July 18, 2003

Maritime Remote Sensing Research:
Locating the Remnants of the "Lost Colony of Roanoke"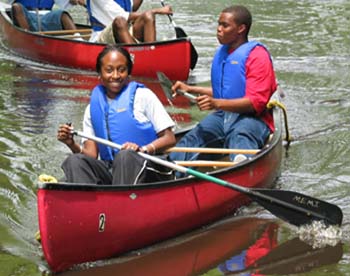 ABSTRACT

In a world of science, technology, and national security, remote sensing technology has emerged as a primary tool for retrieving and interpreting geographical data. Our research project, "Science, Settlement , and Remote Sensing," aims to expand the application of remote sensing technology by answering the question: What happened to the "Lost Colony of Roanoke?" Our research takes and interdisciplinary approach from this 400-year old question by drawing on a wide-range of primary and secondary sources from history, geography, archaeology, and most importantly, remote sensing technology. Challenging some of the key scholarly assumptions about the fate of the "Lost Colony," we argue that the remnants of the "Lost Colony" can be located in Northeast North Carolina. In particular, our research strongly suggests that the final fate of the "Lost Colony" can be traced back to Buck Ridge near Roanoke Island.

---

Office of Naval Research
Nurturing ECSU Research Talent (NERT) Program
September 2002-April 2003

"How to Site Manage Networks, Computers,
and Services Using Administrative Tools"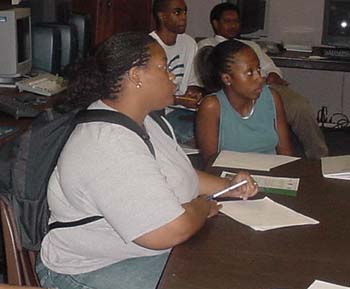 ABSTRACT
The Elizabeth City State University Office of Naval Research 2002 – 2003 Networking Team will implement local and global site polices that will allow the Network Team to effectively administer the existing ONR and Cerser networks. First, the implementation of local security policies using Microsoft and Solaris Management Console will be used to prevent unauthorized user access and disk quota restrictions. Second, the migration of the existing NIA Web server from an Indy platform to a Silicon Graphics O2 platform will allow end-users to access its shared resources with a shorter wait state. Third, using packet analysis administrator tools to conduct a post-implementation review of the existing wireless LAN data throughput will be analyzed for data degradation within the Macintosh LAB. Fourth, load balancing the TeraScan file server, Seaserver, which is located in the Cerser Lab of Dixon Hall and the development of shell scripts to control the removal of monitoring, and trouble shooting in a Unix, Macintosh, and Windows 2000 Network Infrastructure will allow the 2003 Network team to effectively site manage the Mathematics and Computer Science Office of Naval Research Lab.

Site Management requires the Networking team to collect data from two different physical locations in one domain. Both Lester and Dixon Hall consist of 20 to 30 nodes in the Cerser and Office of Naval Research Lab. Each node may be a dual or single boot workstation or server running UNIX, Mandrake 9.0 and Windows 2000, and/or Macintosh x as the operating system. To keep track of open and/or closed projects, each team member maintains a Trouble Ticket Log file on the ecsu.edu LAN. Monitoring both sites is conducted by observing each node system's use and performance. To collect system data, the Network Team used one utility, called task Manager, which runs on a windows 2000 platform to display general system performance that can be recorded into a log file for future analysis.


Undergraduate Institute in Physics-
Research Experience for Undergradutes
(UnIPhy-REU)
June 3, 2002-August 24, 2002

"The Analysis of Fuel Optimal Periodic Trajectories"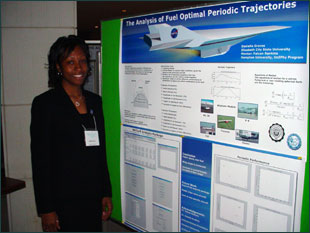 ABSTRACT

In this research, conventional aircraft were flown on periodic cruise trajectories using an optimization program to determine if flying periodically is more fuel efficient than flying steady state. This research also included the development of an analysis package using MATLAB. The analysis package was used to carefully examine the results from the optimization program.
---

Office of Naval Research
Nurturing ECSU Research Talent (NERT) Program
August 2001-May 2003
"Math of The Great Dismal Swamp:"
CD-Rom Production Project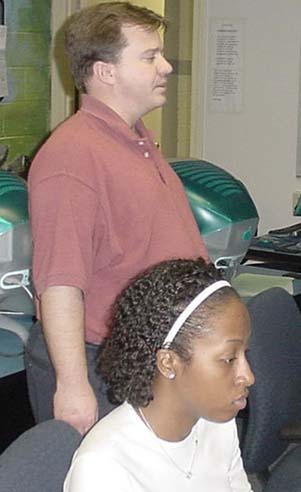 ABSTRACT

The Great Dismal Swamp, located in northeastern North Carolina and southeastern Virginia, is one of the most unique, natural wetlands of the world. The Great Dismal Swamp Boardwalk Hydrology Project at Elizabeth City State University began in the fall of 1996. Its purpose was to determine the quality of the water in the Great Dismal Swamp and to understand how and why the water quality changes. The data collected helped to explain the changes that take place with the swamp's water throughout the year in regard to water table pulsing, pH, nitrate nitrogen, phosphate, conductivity, and dissolved oxygen.
Utilizing various software presentation packages, the multimedia team will develop software that will present the water quality research, history, and geography of the swamp in electronic format. This knowledge will then be used to draw students into interactive lessons in mathematics such as measuring and graphing based on the Principles and Standards for School Mathematics from the National Council of Teachers of Mathematics. The target audience for this software will be the classroom of the K-3rd grades and the delivery method will be via CD with web-based delivery to follow in the fall of 2002.