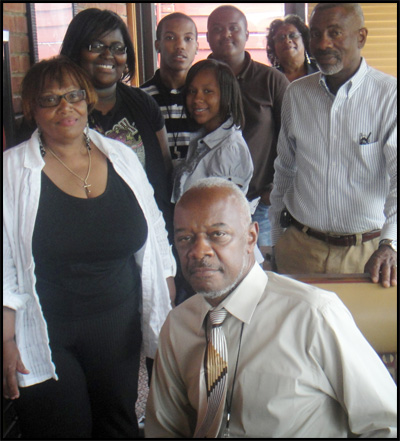 Elizabeth City State University (ECSU) selected four Portsmouth Public High School (PPS) students to be supported through the Center of Excellence in Remote Sensing Education and Research (CERSER) to participate in the 2010 internship program at NASA Langley Research Center (LaRC) in Hampton, Virginia. Mr. Roger Hathaway, Director of the LaRC Office of Education was instrumental in organizing the program.

The program ran from Monday June 21, 2010 through Friday August 13, 2010. Interns attended the LaRC briefing for high school students, on June 21st, at 9am. The briefing included the following: Safety, Information Technology, and Sexual Harassment training. In addition there were additional LaRC forms that they had to complete during the orientation. Students had to bring photo identification to the briefing.

The four interns worked with Mr. Charlie B. Harris in the NASA Langley's Logistics Office. He assigned specific duties to be performed. Mr. Joal Hathaway was the ECSU logistics contact. Interns provided their own transportation to and from the Langley site and stayed in contact with the other three interns to share the ride.

Congratulations to the students on being accepted into the ECSU/NASA Langley High School Internship Program for Summer 2010. Dr. Linda Hayden, CERSER Director, is quoted as saying that she hopes that this experience will help to open the doors to the excellent opportunities available in the northeastern North Carolina and southeastern Virginia area for students who are interested in careers in Science, Technology, Engineering and Mathematics (STEM).
DeAndre R. Carswell
I.C. Norcom High
Aleysha L. Green
I.C. Norcom High
Crystal C. Faison
I.C. Norcom High
Lamar T. Hike
Wilson High
The program allows Portsmouth Public High School students to gain a greater appreciation for the contribution that NASA makes to our world and to experience the opportunities that exist at LaRC for students who have an interest in and talent for Mathematics, Science and Technology.
Reflections & Comments
Dr. Linda Hayden, Principal Investigator 2010 Summer Interns
Mr. Charlie B. Harris, NASA Langley's Logistics Office
Mrs. Barbara Hike, Parent/Grandparent Representative
Mr. Roger Hathaway, Director of the LaRC Office of Education

Special thanks to Mr. Daron Moore, Physics teacher at I.C. Norcom High School
Certificates and Awards