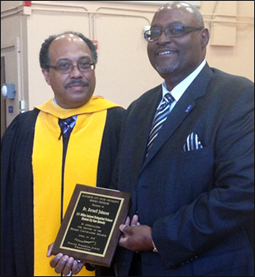 The annual Honors Convocation for Elizabeth City State University was held on April 23, 2015 in the Moore Hall Auditorium. Students from throughout the University received awards for academic achievement during this presentation.
Dr. Darnell Johnson, the E. V. Wilkins Distinguished Professor for the Department of Education/STEM at Elizabeth City State University in Elizabeth City State University in Elizabeth City, North Carolina, was the speaker for this event. He spoke on academic excellence, leadership, and success as a student at ECSU.
Dr. Johnson's address can be found here: PDF Format.
Dr. Stacey Franklin Jones, ECSU Chancellor, also congratulated the students on their awards.
The following students were recipients of Center of Excellence in Remote Sensing Education and Research (CERSER) Scholarship Award:
CERSER "Research Program" Award
CERSER "Research Scholars" Award
Hagen Hodgkins
Antonio Guion
William Kahan
Kathryne Burton
Cornelius Holness
Nigel Pugh
Tatyana Mathews
Jefferson Ridgeway
Jessica Hathaway
Rashida Williams
Tori Wilbon
Khaliq Satchell