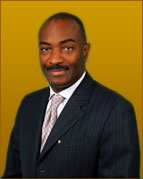 Reginald Van Lee
2008 Black Engineer of
The Year Award Winner

As part of the NSF CI-TEAM contributions to Human Resource Development Component, students from Elizabeth City State University recently attended The National Black Engineer of the Year Awards (BEYA) STEM Global Competitiveness Conference which took place in Baltimore, Maryland February 14-16, 2008. This conference gathers professionals and students from across the U.S. that take part in every field of science, engineering, and technology.

During the conference seminars and workshops are offered that present new information on a variety of topics affecting Black technology professionals such as career advancement and diversity programs. A Career Fair brought engineers, scientists, business professionals and students together with employers.



The BEYA Awards Ceremony recognized the achievement of African-American leaders. This year's Black Engineer of the Year Award went to Reginald Van Lee. He is a Senior Vice President in the New York office of Booz Allen Hamilton where he leads the firm's organization and change capabilities in global health public sector agencies and co-leads the Not-For-Profit business. He holds BS and MS degrees from the Massachusetts Institute of Technology. He also earned an MBA at the Harvard Business School. For more information on Mr. Lee see http://www.essence.com/essence/summit/bio_r_vanlee.html.