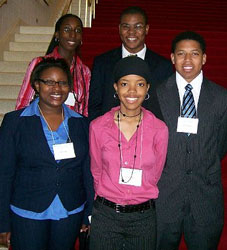 Research in the Capital is a gathering of undergraduate students from the UNC system presenting their research to state legislators in the capitol. This presentation allows legislators to see the current research being undertaken by the students within the University of North Carolina system. The event is sponsored by the Undergraduate Research Consortium (URC).
The UNC URC includes representatives from the constituent UNC institutions, working together to identify, recommend and to help implement activities that expand the research opportunities for undergraduate students. The mission of this consortium is to support and promote undergraduate research, creative work, and inquiry-based learning in all fields of study with the support of faculty and other mentors.
The group of students from Elizabeth City State University were led by Dr. Darnell Johnson, Chair of the Mathematics & Computer Science Department, Dr. Gloria Knight, Chair of the Music Department, and Mr. Moses McDaniel, Biology Research Assistant. Students representing ECSU were: Jerome Mitchell, Bryce Carmichael, Salimah Cogbill, Tiara Baxter, and Gieira Jones.