MU-SPIN Project
Planning Meeting
January 13-14, 2000
Atlanta, GA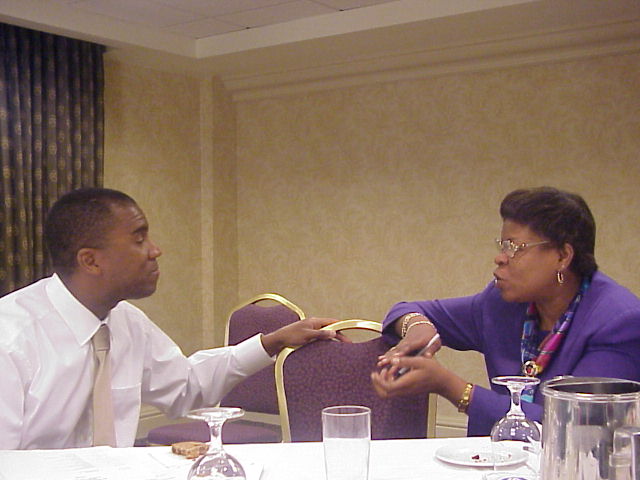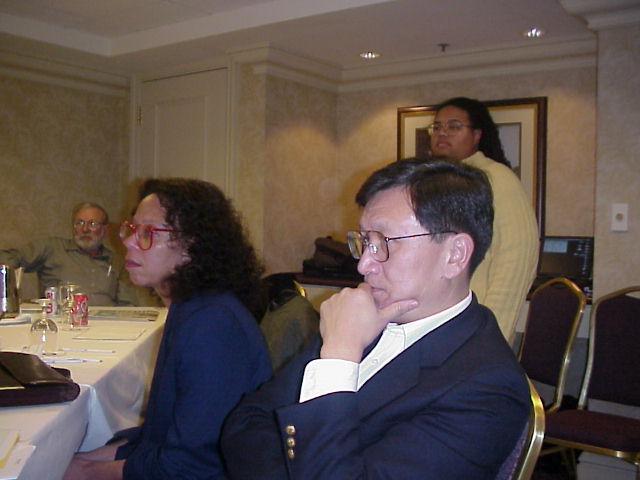 MU-SPIN 2000-2003
Strategic Plan Summary
prepared by James Harrington, Jr.
with assistance from Robert-Allen Baker



I. Purpose and Goals for MU-SPIN

This strategic plan's purpose is to optimize the MU-SPIN asset for its parent division, MURED, by building on accomplishments; and to make the asset more available to NASA's principal enterprise areas for effective achievement of agency-wide minority educational goals. Goals include:
Devise and implement a "best practice" formula for core work of MU-SPIN, based on its accomplishments.


Leverage MU-SPIN's performance through selective partnership with other NASA resources, ensuring truly national outreach.


Promote MU-SPIN by MURED throughout NASA's enterprises as a broker of essential information about minority institutions and opportunities.
II. Objectives and Tasks

To achieve strategic plan goals, the Project Manager and team will address a series of key issues by completing the tasks described below. These tasks result from identification of key MU-SPIN issues through consensual discussion at the management level. To ensure task completion, each is to be treated as an objective in a General Plan of Work, with a unique schedule of activities, deliverables and outcomes. (A summary General Plan of Work appears as an appendix to this document.)

1. Design a summative evaluation instrument for application to the seven MU-SPIN NRTS and collateral initiatives, to determine success in meeting stated objectives.

2. Conclude and apply a "best-practice" formative work plan, or model, for NRTS core activity and collateral initiative work, based on the summative evaluation.

3. Leverage NRTS performance through selective partnership with other science/technology service providers to minority institutions (including internal NASA resources and external resources), ensuring truly national outreach by the NRTS.

4. Promotion of the revitalized NRTS by MURED through NASA's enterprises as a broker of essential information about minority instiutions.

5. Devise a continuous project evaluation methodology(formative) for application to ensure completion or amendation of the proceeding project objectives. Note: This methodology will be designed at project onset, and continuously pursued during the strategic planning process.

A Schedule of Activities necessary and sufficient for the completion of each objective will likewise be designed at the onset of Phase One in the General Plan of Work. The schedule for each objective will describe a critical path of sequential activities, with start-stop dates, staff assignments, deliverables and key reporting timetables detailed to facilitate project management.

III. New Activity Platforms

Principal outcomes of the MU-SPIN strategic planning process -- clearly implied in "Key Issues" above, and the General Plan of Work, below -- include these new activity platforms:
Minority university capabilities database


NRTS workshops with NASA enterprise participation


Joint NASA pre-announcement conferences with NASA enterprises, for prospective applicants


Mentorship




Appendix



Background

Apart from massively-funded efforts to advance minority learners by a scattering of federal agencies (the Dept. of Education, National Science Foundation, et al.), less familiar but prolific projects are attributed to the Minority University Research and Education Division of NASA's Office of Equal Opportunity Programs. Over a nine-year span, MURED has made at least three notable contributions:


MURED has incubated, grown and managed a plethora of programs reaching underserved minority learners to achieve NASA's goal of enabling major contributions from the nation's underutilized research and technology asset base. Of those, MU-SPIN(est. 1991) has been notable, because the campus local area networks it has encouraged have forever changed the infrastructure -- and the opportunities -- of minority schools.


MURED has introduced minority universities to the world of "Research I" institutional participation in leading-edge science and engineering research through its innovative University Research Centers program.
MURED's seven URC campuses are renowned for their advanced R and D capacities, and their ability to take minority learners to significantly high graduate levels of achievement.


MURED has provided a model of increased participation in minority institutions that has been informally noticed by other federal agencies's minority programs, and by other enterprise areas within NASA (Space Science, Earth Science) tasked with creating their own education programs.
Over MURED's short nine-year history, the landscape of minority involvement in NASA has vastly changed. The obvious example is NASA's gallery of role-model astronauts .... men and women of color across the racial spectrum of yesterday's disadvantage. And there is other evidence to indicate that the pipeline of minority learners trained in science, technology and engineering is filling -- such as the increased interest of minority institutions in joining NASA enterprise endeavors.

As the new millennium opens, the national challege of diversity remains largely unmet, despite increased interest by persons of color. For NASA, MURED's MUSPIN is a critical key to creating opportunities responsive to heightened minority interst.

Three questions are preeminent, What are the best-practice lessons to be learned from a practical review of MU-SPIN's current scope of activity towards its mission? How does MU-SPIN actually perform its work, and what resources external to MURED may be mobilized to enhance this performance? Where may NASA best apply MU-SPIN's accrual of resoruces and information to cost-effecient advantage?

A realistic evaluation of MU-SPIN as a highly-evolved NASA asset, through the MU-SPIN 2000-2003 Strategic Plan process, could materially help the entire agency reach its goal for minority learners -- and do it faster, cheaper, better.

I. MU-SPIN Accomplishments

MU-SPIN was created in 1991 to help minority universities build and support campus local area networks connected to the Internet. That simple, focused mission it has forever changed the infrastructure -- and the opportunities -- of numerous minority institutions above K-12, and encouraged infrastructure change in K-12 schools primarily serving minority learners. A true appeciation of MU-SPIN's national achievement begins with its seven Network Resource and Training Sites -- each at a proven HBCU or OMU. NRTS' attention to spreading network access has fostered myriad new collaborations and interactions by minority schools beyond their old world of mainly intramural action. Special MU-SPIN initiatives -- workshops, colloquia, etc. -- are designed to enhance the NRTS effort, often in league with partnering Expert Institutes such as the National Indian Telecommunications Institute and carefully-chosen consultants in research, education/public outreach, technology transfer/commercialization, and change management.

II. Need Statement for New Activities

1. The NASA Office of Education has been tasked with developing coordination strategies across the agency's enterpise areas. Although each of the agency offices' education/public outreach programs have had stringent requirements for minority participation, evidence (e.g., from review process managers) indicates a consistent inability by majority institutions and Investigators to identify minority institutions for partnerning purposes. NASA needs to establish a cost-effective, "one-stop" brokerage to remedy this lack of effective access to minority educators and learners.

2. Performance pressures have inhibited MURED and MU-SPIN in design and implementation of an evaluation instrument to determine "best practice" for its key service provider to minority institutions: The Network Resources and Training Sites. To optimize NRTS' performance, a summative evaluation should be performed, resulting in a formative work plan, or model. This evaluation process must apply to the NRTS, as well as MU-SPIN collateral initiatives (Expert Institutes; consulting for change Management, Research/Ecuation Outreach, and Technology Transfer/Commercialization).

3. Presently, NASA lacks an evaluated inventory of science/technology service providers to minority institutions, which would include both internal NASA resources (e.g., the Office of Space Science's "Broker/Facilitator Network", etc.) and external resources (e.g., the national Space Grant Consortia, training and other outreach entities funded by prime science contractors like Lockheed Martin Corporation, and Others). To ensure "faster, cheaper, better" service to and inclusion of minority institutions -- with less redundant effort -- NASA needs to further enfranchise a proven program such as MU-SPIN.

In summary, a plethora of currently-funded programs need diversity; conversely, a plethora of minority institutions require intervention to ensure participation in 21st century science, engineering and technology.
Agenda
January 13
6:00pm
Group Dinner
Sundial Restaurant
January 14
8:30am
Continental Breakfast Arcadia Room
9:00-9:15am
Welcome
James Harrington
Zena Room
9:15-10:00am
MU-SPIN/NRTS Issues
James Harrington and Reginald Eason
10:00-10:15am
Break
Arcadia Room
10:15-11:15am
PI Reflections from NRTS Phase 1
Zena Room
11:15am-12:00pm
NRTS Follow-On Description
12:00-1:00pm
Lunch
Sparta Room
1:00-2:00pm
ESSEA/OSS Videoconferences
Zena Room
2:00-2:30pm
NOVA Spring Workshops
2:30-2:45pm
Break
Arcadia Room
2:45-3:45pm
10th Annual conference Planning
Zena Room
3:45-4:45pm
Open Discussion
4:45pm
Adjourn

MU-SPIN Space Mission Involvement
Workshop Videoconference Review
Space Mission Workshop
Presented by Valerie L. Thomas
MU-SPIN Research and Education Outreach Coordinator
at the NRTS PI Meeting, Atlanta, GA
January 14, 2000



SMIW Accomplishments


MU-SPIN Community Exposed to Space Science Mission Planning, NRA, and AO
MU-SPIN Community Introduced to Space Science Community
Opportunities for Interaction Between Presenters and Participants at the Sites.
Broad Cross Section of Presenters
- Included Representation Reflecting MU-SPIN's Constituency
1st MU-SPIN-Wide Collaborative Internet-Based Project
-Webpage Development
-Videoconference Capability(All NRTS)
-NRTS Remote Presenter(Don Walters SCSU)
Lessons Learned
Scheduling is Critical - Avoid Exam, Registration and Graduation Dates
Publicity - More Work Needs to be Done
Need More Than one Camera - Main Site
Handouts Available Before Videoconferece - Imperative
Need to Tape Sessions - At More Than One Site
ECSU Provided Videotaping - Difficulty with voice at ECSU Site
Feedback - Satisfaction
Overall Participants' Satisfaction
-SMIW Videoconference Met Their Expecations (Rating: 4.4, 1-5 Scale)
-Presenters/Speakers - Good to Outstanding (Rating: 2.5, 1-3 scale)
-PowerPoint Presentations Were Helpful in Understanding the Material(Rating: 4.5, 1-5 scale)
-Videoconference Facilty - Good to Outstanding(Rating: 2.7, 1-3 scale)
Unamimous Affirmative Responses
-Will Recommend MU-SPIN SMIW to Colleages
-Would Particpate in MU-SPIN SMIW Team Building Workshop
Open to Space Science Community, Industry, and the Minority Universities
Feedback - Most Valuable Aspects of SMIW
Interchange of Information
-Researcher's Experiences
-Project Descriptions and Operations
Information on Research Opportunities and Student Internship Opportunities
Step-by-Step Discussion on Submission and Review of Proposals
Presenters as close as real life can get
Learning of Dr. Aprille Ericcson-Jackson's Interest in Working at an HBCU in a Relevant Capacity
Feedback - Least Valuable Aspects
No Building Model for the Millennium or Related Remorks on Y2k Imapct on Technology
Some Presentations - too Long
-Handouts Were Available
Proposal Writing Sessions
-Previously Attended Several NASA Proposal Writing Workshops
Feedback - Videoconferencing as Effective Delivery System
Yes - Most Responses
One Response - Semi-Effective(Better Protocols Needed for Coordinating Voice and TV Scenes, and Polling the Sites)
Advantages of Videoconferencing
-Decreased Travel Time; Interaction Between Speakers and Participants; Access to Broader Knowledge; Efficient Way to Communicate Ideas, Opportunities, and Encouragement; and Eliminates Paper Work REquired to Attend Traditional Conferences.
Feedback - Participation in Another MU-SPIN Videoconference
Yes - All respondents
-Ideal way to bring us closer to NASA Centers and scientists
-Very informative, very effective for first time, and provides for continuous learning
-Allows for large geographically dispersed group to share information
-For curiosity in Space Technology, increasing technology in video and data communication
Feedback - Expand MU-SPIN SMIW?
Suggestions
-Collaborations for Joint Funding(Minority and Majority Institutions)
-More Discussions - People with Hands-On Experience
-Include Astrobiology, Other NASA Enterprises(Especially, Earth Science), Sub Orbital Opportunities, GAS Can Opportunities, and Theoretical and Analysis(May be Best Way to Get Involved)
-More Solid Research for Computer Technology
-Limit the Workshop to One Day Instead of Two Days
-Include Speakers from all the Sites(Develop Protocals to be Effective)
-Avoid December for the Workshops
-"Can I use it in Clasroom Situation?"
Feedback - Other Suggestions and Recommendations
More Interaction for Participants
Record Sessions for Future Viewing
Student Involvement is Extremely Important
-Include Students from Other Participating Institutions
Facilitators - Stay on time, Keep to the Agenda, Limit Questions from Each Site, and Repeat Questions Before Response is Given
Too Many Speakers on Day 1
Expand Section on Prncipal Investigator or Co-Investigator Insights
Follow-up on Dr. Jackson's Interest in Mentoring at an HBCU
Can We Have Bigger Screens?
Keep Doing Similar Good Work
More Active Pre-Conference Preparation
-Presentations and Copies Set Up and Sent Prior to Workshop
-Network Needs to be up and Operating Prior to the Workshop Start
-Reduce Number of Agenda Items(Time Needed for Multi-Site Coordination)
-TV at Each Site - Show People Identifying Sign
-Make Volume Levels Consistent at Each Site
Improve Communication With Everyone in Room
Follow-up Activities
Put Presentations On-Line for Viewing
Search for PI for Space Mission Involvement Proposal Teach
Host More SMIW Videoconferences
Investigate Ways to Accomodate More Remote Access
Particiapte in MicroSat Project
MicroSat Project
GSFC Asked Dr. Aprille Ericsson-Jackson to Lead Project
-Opportunity for Minority Universities
-MU-SPIN Will Support Project
Project Goal - Develop a Fleet of Small Satellites (NanoSats) to Fly in Formation
Summer Institute - Staff (and Possibly Students) Work on Developing Proposal
-Benefit of Access to NASA Resources and Scientists and Engineers
Satellites Will be Built at the Minority Institutions -Test and Integration at GSFC
Return to NRTS