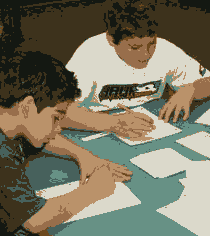 ECSU 2007 Math Sprint Competitions
Elizabeth City State University is sponsoring Math Sprint Competitions in area schools. These competitions involve students completing problems in a given time in order to receive points for correct answers but lose points for incorrect answers. The winners receive trophies for their efforts and certificates are presented to others in the competition.
For more information on these events, please contact Dr. Darnell Johnson, Chair of the ECSU Mathematics and Computer Science Department, at (252) 335-3544.
Select the schools from above to view photos from the events!