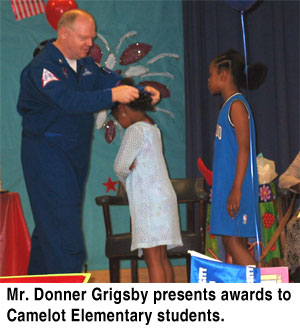 On June 3, 2004, the students at Camelot Elementary School in Chesapeake, Virginia attended a NASA Student Involvement Program (NSIP) Awards Ceremony held at their school. The class of Ms. Jasmine Charity was awarded first place in the Science and Technology Journalism: 2-4 for their submission of the paper entitled "First Flight Centennial Celebration". The paper documented the First Flight Celebrations at Kill Devil Hills, North Carolina, the history of flight, and the advancements that have been made since. The students receiving this award were:
Ashley Burke
Courtney Doupe
DeVaun Straw
J'nele Chappelle
Jaylyn Lassiter
Jennifer Hodges
Jessica Thornton
Markell Staton
Olivia Williams
Shiann Murphy
Zavier Simmons
Mr. Donner Grigsby, a Computer Security Official for the Airborne Systems and Flight Research Services Competencies, and Certified Information Systems Security Professional (CISSP), presented the awards to the students and teachers. Mr. Grigsby has the distinction of being a direct relation to the Wright brothers.
Also speaking at the event was Dr. Linda Hayden, Principal Investigator fo the NASA Network and Resources Training Site (NRTS). NRTS is a resource for the NSIP and a sponsor of the Math Sprint Competitions held at Camelot. She spoke to the students on believing that they could be a mathemetician, a researcher, a scientist, or an engineer and that they were needed in these fields.
The NASA Student Involvement Program (NSIP) is a national program of six investigations and design challenges for grades K-12 that link students directly with NASA's exciting missions of exploration and discovery.

The NASA Student Involvement Program supports national education standards for science, mathematics, technology, and geography. By participating, students will
Develop "science as inquiry" skills
Work collaboratively as team members
Apply computer and Internet skills
Learn core concepts of Earth and space science
Integrate science, mathematics, technology, and geography concepts
Learn to communicate more clearly and effectively.