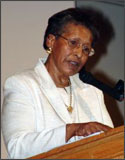 The annual Honors Convocation for Elizabeth City State University was held at 2 p.m., April 20, 2006 in the Floyd L. Robinson Auditorium of the Mickey L. Burnim Fine Arts Center. Students from throughout the University received awards for academic acheivement during this presentation.
The convocation speaker was Ms. Dorothy Redford, a historian, an author, and the director of Somerset Place, a representative antebellum plantation, in Creswell, North Carolina. Ms. Redford authored the book "Somerset Homecoming: Recovering A Lost Heritage" which tells of her journey to unite the descendents of black slaves on the Somerset Plantation in North Carolina. More information on the Somerset Plantation can be found at: http://www.ah.dcr.state.nc.us/Sections/hs/somerset/somerset.htm
For more information on the program contact Dr. Velma Blackmon, director of the Honors Program at (252) 335-3294.
The following students were recipients of the Center of Excellence in Remote Sensing Education and Research (CERSER) Scholarship Award.

Anthony Anderson

- CS-JR

Jamison Gibbs

- CS-SR

Jerome Mitchell

- CS-JR

Demetrus Rorie

- CS-SR

Karitsa Williams

- CS-SR

Brian Campbell

- Geo-SO

Brandi Brehon

- CS-JR

Garry Cameron

- Math ED-JR

Gregory Brown

- CS-SO

Erica Pinkney

- PHY-JR

Cheniece Arthur

- CS-SO

Kaiem Frink

- CS-SO

- CS-FR

Bryce Carmichael

- CS-FR

Kyle Sample

- CS-FR

Treasia Fields

- Math-FR

Shaquera Mosley

- CS-FR

Danielle Wright

- Math-FR

Kevin Reynolds

- Math Ed-FR

Lee Smalls, Jr

- CS-FR

Unquiea Wade

- CS-FR