The 2005 International Geoscience and Remote Sensing Symposium took place in Seoul, Korea on July 25-29. This year's symposium, entitled "Harmony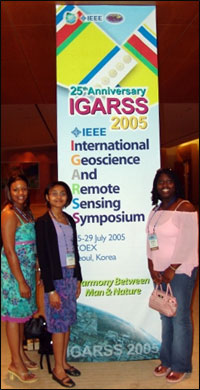 between Man and Nature", focused on utilizing remote sensing as a tool to provide the world a way to view global economical and environmental change. The location of the symposium was especially appropriate as Asia is one of the fastest growing industrial societies in the world.
Movie Clips:
Cleon Anderson, President of IEEE
Several individuals from Elizabeth City State University (ECSU) were able to attend and present research during this year's symposium.
Dr. Linda B. Hayden, Director of the Center of Excellence in Remote Sensing Education and Research (CERSER) joined with Dr. Ambrose Jearld, Jr., Director of Academic Programs with NOAA, National Marine Fisheries Service at the Northeast Fisheries Science Center, Woods Hole, Massachusetts. Their presentation, "Inter-agency Collaborations: Federal Agencies Working with Colleges and Universities to Offer Interdisciplinary Training in Remote Sensing, Ocean, and Marine Science" (PowerPoint Presentation), dealt with the results of interagency collaboration efforts to attract and retain students in engineering and limnological, ocean, marine, and atmospheric-related science through postdoctoral levels, and to retrain individuals with experience in other disciplines for careers in these fields. The question was asked as to how effective these collaborations over the past ten years have been in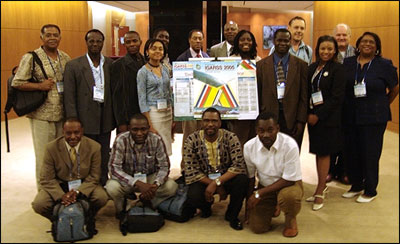 allowing NOAA to achieve its goals of a diverse scientific work force.
Also attending were Eunice Smith (ECSU), Tiffany Fogg of Fayetteville State University (FSU), and Erica Pinkney (ECSU). Eunice Smith presented research in the poster session entitled "Remotely Sensed and In-situ Observations of a Coastal Upwelling Event along the North Carolina Coast, Summer 2000" [more info]. Tiffany Fogg presented "Dolphin Presence/Absence Probabilities on the Virginia and North Carolina Coasts as Correlated with Sea Surface Temperature and Chlorophyll-A Levels" [more info]. Erica Pinkney's research poster presentation was entitled "The Spatial and Temporal Variability in the Northwestern Gulf of Mexico during 2002" [more info].