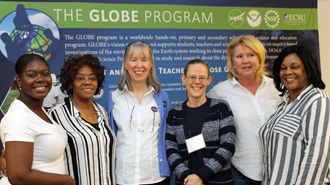 GLOBE Workshop for Teachers
On April 5-6, 2019, GLOBE at Elizabeth City State University sponsored aWorkshop for Teachers which included the hydrology, clouds, and atmosphere protocols. Several guests gave statements to the attendees including:
Tim Goodale, ECSU Graduate Program Director
Roger Hathaway, GLOBE Research Associate
Garry Harris, South-East Region GLOBE Director
Linda Hayden, ECSU GLOBE Director
Saturday Sessions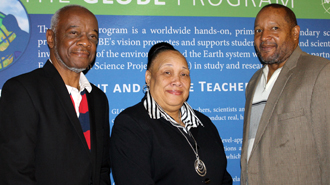 Morning Concurrent Sessions
Session II
GPS Scavenger Hunt: Derek Morris, Joselyn Hathaway
Session III
GLOBE Hydrosphere Protocols
Wanda Hathaway, Jessica Hathaway
Lunch Session: Garry Harris, GLOBE Program
Afternoon Session IV
GLOBE Cloud Protocols: Marilé Colón Robles
Closing Session
Closing Remarks: Lin Chambers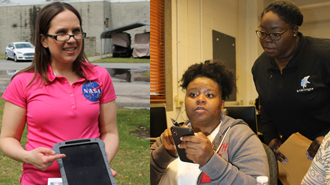 Plenary and Luncheon Speakers

Lin Chambers - Science Education Integration Manager, NASA
Lin Chambers is a Physical Scientist at NASA Langley Research Center. She has had a variety of roles over the years, including directing both the Students' Cloud Observations On-Line and MY NASA DATA Projects. She began working with GLOBE around 2003 when she developed a protocol for observing contrails, which is now part of the GLOBE clouds protocol. Currently she is serving as the Science Education Integration Manager at NASA HQ.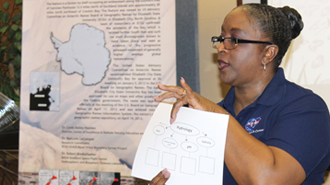 Marilé Colón Robles - NASA GLOBE Clouds Project Scientist
Marilé Colón Robles is the project scientist for NASA GLOBE Clouds based out of the Science Directorate at NASA Langley Research Center. Marilé works with scientists on ways to include citizen science data into research. She also works with students and teachers on how to engage in real-world STEM activities and in authentic science through the GLOBE Program.

Garry Harris – South-East Region GLOBE Director
Garry Harris is the president of HTS Enterprises, a consulting firm that provides diverse energy engineering and power generation technical services including research, policy and education services. He is the founder and Executive Director for the Center for Sustainable Communities.

Jessica Taylor - GLOBE Master Trainer in Atmosphere
Jessica Taylor is a Physical Scientist in the Atmospheric Composition Branch at NASA Langley Research Center. She leads the Science Education team and oversees the GLOBE at Langley and My NASA Data programs. She is also a GLOBE Master Trainer in Atmosphere and is the GLOBE Education Working Group Chair.