Preceding the lecture a Faculty Funding Strategy Session was held in the ITC videoconference room. Taking part in the session were: Dr. Scott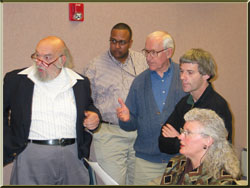 Hensley, Dr. Linda Hayden, Dr. Maurice Powers, Mr. Fred Willard, and Dr. Francisco San Juan.
Following the lecture, the Elizabeth City State University Northeastern North Carolina and Virginia State University Chapters of the IEEE Geoscience and Remote Sensing Society (GRSS) met in the Center of Excellence in Remote Sensing Education and Research (CERSER) labs in Dixon Hall. A research poster presentation session and refreshments completed the day.