2007 BWF Project
Increasing Student Interest in Earth Science through Problem-Based Learning, Use of Technology, and Field Experience
Program Overview
Students from several local high schools spent part of their 2007 summer conducting research sponsored by the Burroughs Wellcome Fund Project at Elizabeth City State University. Students were mentored by faculty, staff, and mentors from throughout the community. The research consisted of environmental, ecological, and geological subjects meant to raise their interest and to instuct them in the displines of general research methods. Part of their time was spent working in the classroom conducting research and documentation, but the majority was spent gathering information from the field.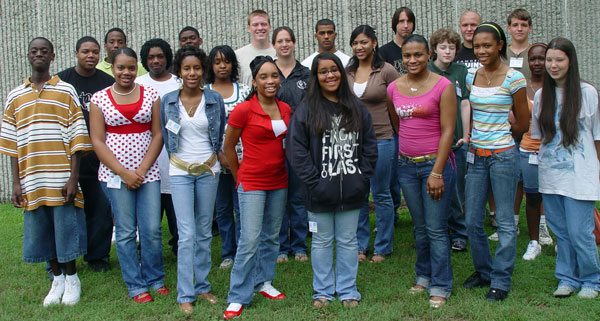 Individual research project titles, their members, and links to further research can be found below.

Water Quality
LaKesha Morris, DaNesha Curry, Rickea White

Wetlands
Grace Pelton, Chakorra Brown, Tammy Ratteiger, Quanetra Respass

Geology
Terence Baker, Travis Harvey, Jameel Joyner, Anthony Carver

GIS
Nicholar Lannon, Ray Baker

SAV
Melvin Boyce, Brittany Griffin, Kevin Lee, Deon Price

Storm
Tracie Twine, Alicia McPherson, Amanda Richardson, Gretchen Davila

ECSU Burroughs Wellcome Program
Dr. William Porter, Principal Investigator
Campus Box 975, ECSU 27909 Room 409 J.R. Jenkins Science Center
(252) 335-3378 fax (252) 335-3465
waporter@mail.ecsu.edu
Elizabeth City State University does not endorse, sponsor or provide material located on this site.