Software Carpentry workshop was a hands-on two-day event held on the campus of Elizabeth City State University in the Center of Excellence in Remote Sensing Education and Research (CERSER). The ADMI Software Carpentry Workshop was held June 8-9, 2016 and covered the core skills needed to be productive in a small research team. Short tutorials alternated with practical exercises, and all instruction was done via live coding.
Topics included:
Automating tasks using the Unix shell
Structured programming in Python, R, or MATLAB
Version control using Git
Since 1998, Software Carpentry has taught researchers in science, engineering, medicine, related disciplines, and the computing skills they need to get more done in less time and with less pain.
Workshop leaders:
Zbigniew Jedrzejewski, George Mason University
Trikuta Srinath Ashwin, Clemson University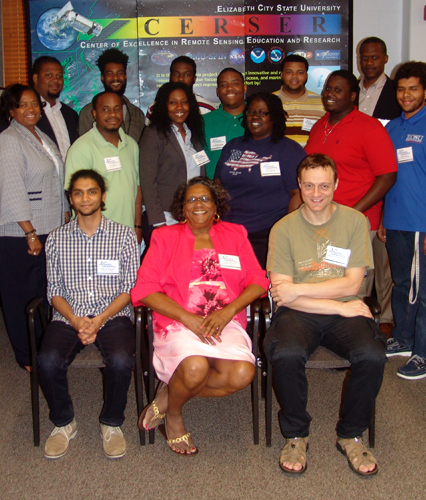 Robertson Bassy, Auburn State University
Cheryl D. Seals, Auburn State University
James Belton, Winston-Salem State University
Jacqueline Bethea, Winston-Salem State University
Rebecca Caldwell, Winston-Salem State University
Kaiem Frink, Virginia Union University
Rahmira Rufus, North Carolina A&T
Gina Bullock, North Carolina A&T

Rahmira Rufus, North Carolina A&T
Gina Bullock, North Carolina A&T
Andrew Brumfield, Elizabeth City State University
Steffie Walthall, REU- Savannah College of Art and Design
Alfred Watkins, ADMI
Kuchumbi Hayden, Elizabeth City State University
Linda Hayden, Elizabeth City State University