The National Science Foundation sponsored the Science, Technology, Engineering, and Mathematics (STEM) Women of Color Conclave in Washington, D.C. at the Renaissance Dupont Circle Hotel on June 5-6, 2010.  This meeting brought together internationally recognized leaders with a national assembly of women of color, from diverse STEM disciplines and professions to engage in conversations, collaborations, & collective action about topics of concern for STEM Women of Color. More specifically, the aim of this conclave is to better understand and address the roles of race, gender, health, and professional development on STEM Women of Color and their career development and advancement in the 21st Century.
From university faculty to science television producers, the anticipated outgrowths of this conclave included a commitment to:
Building global awareness of issues facing STEM Women of Color
Inspiring the pursuance of related cutting edge research
Identifying practical, achievable individual and collective goals
Fostering meaningful, sustainable networking & mentoring relationships
Representing Elizabeth City State University at the conference was Dr. Linda Hayden, Director of the Center of Excellence in Remote Sensing Education and Research (CERSER).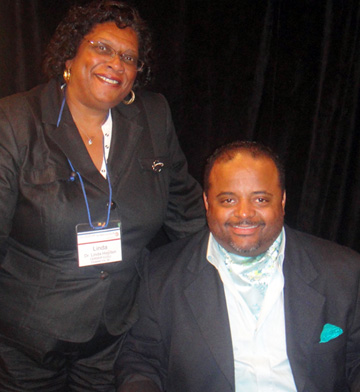 Dr. Linda Hayden and Mr. Roland S. Martin, Award Winning Journalist, Commentator and Author