On December 14-18, 2015, representatives from various Historically Black Colleges and Universities attended the 2015 American Geophysical Union (AGU) Fall Meeting in San Francisco. The AGU Fall Meeting is the largest conference in the geophysical sciences with earth and space scientist, students, teachers, and others in attendance. Presenting students below were also joined by Ms. Steffi Walthall and Mr. Kaiem Frink.
2015 AGU Poster Presentations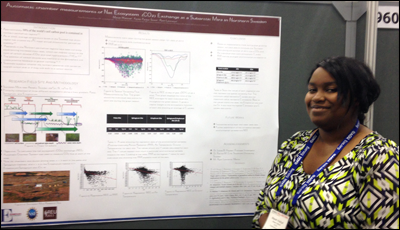 Maeah Walthall, Junior
George Mason University
"Automatic chamber measurements of Net Ecosystem (CO2) Exchange at a Subarctic Mire in Northern Sweden"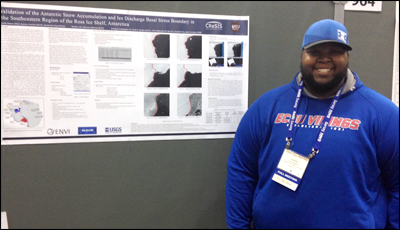 Charlie Nelson, Senior
Kentucky State University
"Validation of the Antarctic Snow Accumulation and Ice Discharge Basal Stress Boundary in the South Eastern Region of the Ross Ice Shelf, Antarctica"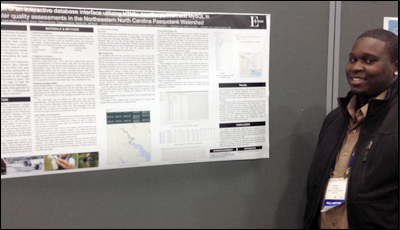 Derek Morris, Jr, Junior
Elizabeth City State University
"Implementation of an interactive database interface utilizing HTML, PHP, JavaScript, and MySQL in support of water quality assessments in the Northeastern North Carolina Pasquotank Watershed"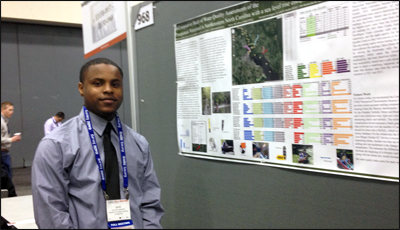 Jamal Stevenson, Sophomore
Mississippi Valley State University
"A Corresponding Study of Water Quality Evaluation of the Pasquotank Watershed in Northeastern North Carolina"