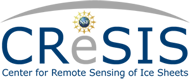 On March 25, 2015, the Center for Remote Sensing of Ice Sheets (CReSIS) sponsored an All-Hands Meeting which included three presentations by graduates of Elizabeth City State University. These individuals received the CSO Mentoring Award for their 2014 research.
The CSO Mentoring Award is presented to M.S. and Ph.D. graduate students at CReSIS partner institutions who have greatly contributed to the research and professional development of future CReSIS scientist and engineers.
Mentees can be undergraduate students, middle/high school students and must have the recommendation of a CReSIS faculty member to be considered for this award. Awardees must have worked collaboratively for four or more weeks with a team of one or more undergraduate students on a CReSIS science related project.  Work may have been completed onsite or virtually.
Awardees agree to give a talk mentees to be scheduled as part of the All-hands events and receive a certificate and a check for $500.00.
Presenters included:
Michael Jefferson
Validation of the basal stress boundary utilizing Satellite Imagery along the George VI Ice Shelf, Antarctica
http://nia.ecsu.edu/reuomps2014/teams/antarctica/team.html
Ryan Lawrence
Ground Penetrating Radar Survey of Edenton Green for Early Structural Remains
http://nia.ecsu.edu/reuomps2014/teams/radar/team.html
Andrew Brumfield
Documentation of Seaspace Ground Station Systems at Elizabeth City State University
Pictured to the left: Michael Jefferson, Dr. Linda Hayden, Andrew Brumfield