A (100) Grand Gala: Alumni, Friends Raise $100K
By Jon Hawley, Daily Advance Staff Writer, Sunday, March 8, 2015

Investing in the students they once were, Elizabeth City State University's alumni and friends raised $100,000 for scholarships during the Founder's Day Gala Saturday night. ECSU officials, alumni and community leaders filled the Kermit E. White Center for the black-tie affair hosted by the ECSU Foundation. The night marked the "culmination of 124 years of academic excellence," as Chancellor Stacey Franklin Jones told the audience, referring to ECSU's founding on March 3, 1891. The night also recognized nine distinguished alumni and community servants and — most importantly, various speakers said — supported ECSU students.
ECSU Foundation Chair Rodney Hawkins said a college education would've slipped out of reach for him, were it not for the foundation. Hawkins said he came to ECSU as a first-generation college student with little means to pay for his schooling. He was "about to give up" when an ECSU official intervened and, he learned later, helped point him toward the foundation. Hawkins added later that today the ECSU Foundation hands out hundreds of scholarships to ECSU students, some up to $2,000. But even a few hundred dollars, he said, can make or break college for some students. He told audience members — many now accomplished in diverse fields — that, just as ECSU and others had invested in them, they needed to invest in the next generation. "We drink from wells we did not dig, we are warmed by fires we did not kindle," he said, referencing the biblical book of Deuteronomy.
Two ECSU students on hand Saturday night vouched for that. Tyler Pryor, set to graduate this spring with a degree in aviation science, said he got accepted into other universities but couldn't afford them. With ECSU's low tuition plus scholarships, he's now on track to enter flight school and, hopefully, join the U.S. Coast Guard. Sophomore Tatyana Matthews also told the gathering their efforts help students, including her. Pursuing a major in computer information science, Matthews said ECSU has allowed her to "break out of her shell" while taking on some major research projects. She hopes to innovate in interactive, computer-based learning, she said.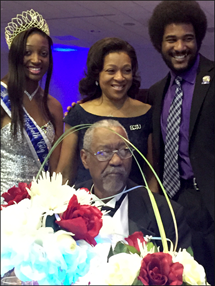 At the evening's close, interim Vice Chancellor for Institutional Advancement Ralisha Mercer said the gala raised about $100,000 for student scholarships. The night's strong attendance and donations made her optimistic next year's gala would be even better, given it will be part of ECSU's celebration of its 125th anniversary.
Legacy Awards Announced
During the gala, Master of Ceremonies Clayton Mercer also announced nine recipients of "Chancellor's Legacy Awards," recognizing their support of ECSU plus their professional and philanthropic work. The awardees are:
Alumni Relations, Gwendolyn Bowser
Nicknamed "Ms. Viking Pride," Mercer said Bowser, as second vice president of the ECSU National Alumni Association, has been a tireless advocate for ECSU. Bowser herself joked that, when she sees alumni, they ask her unprompted, "How much do you need?" The gala's program details she's a retired elementary school teacher recognized for her community accomplishments in Bowie and Baltimore, Md.
Business, Jeff Dixon
Mercer recognized Dixon, also a Pasquotank County commissioner, for running a successful family business, being active in local community groups such as the Elizabeth City Boys and Girls Club, and serving on ECSU's chancellor search committee that helped select Jones. Dixon dedicated the award to his father, Jimmy Dixon, who he said always taught him to give back. As owner of City Beverage Co., he also offered to donate beer to next year's gala because "I'm not a wine guy," drawing laughs.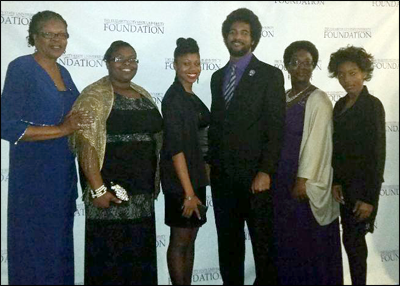 Education, Linda Hayden - Acceptance Video
Mercer called Hayden "the force behind the success of hundreds of students." An ECSU mathematics and computer science professor and associate dean, Hayden's work left her unable to attend the gala. But she thanked the audience in a short video and recognized several students, Matthews among them, for their research work.
Military, Col. Rodney Haggins
Haggins, an Army officer researching long-term Army planning at Fort Eustis, Va., said his military career wouldn't have happened without ECSU. He also said the Army is a lot like ECSU — "other than its propensity to kick in doors and blow stuff up" — in that it's a learning institution.
Education/Philanthropy, Drs. Darnell and Stephanie Johnson
Mercer recognized the couple, who attended ECSU together, as among the top 10 alumni donors to ECSU. The couple said they were creating a new scholarship for ECSU to offer.
Community Service, Mary Sharpe
Sharpe was recognized for her service not only to the ECSU Foundation and alumni association, but to various other educational and community groups, including the Community Relations Commission.
Government/Education, Cecil Perry
Mercer hailed Perry, a former Pasquotank Elementary School principal and current Pasquotank County commissioner, as a true leader for his involvement in various educational and government organizations. Perry said he "stood on the shoulders of great graduates" of ECSU.
Sports/Business/Education Philanthropy, Argle Whitfield
Whitfield, who rose from football at ECSU to playing with the Dallas Cowboys and Denver Broncos in the 1960s, was recognized for establishing lasting support for education. That includes establishing a foundation and private school in memory of his late son, Trey Whitfield, plus establishing the Agnes Whitfield Endowment Fund specifically providing ECSU scholarships.