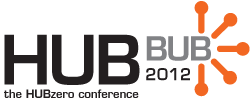 HUBbub 2012 the HUBzero Conference
HUBzero is a collection of development tools and resources available for use on a variety of platforms including cloud computing resources, DiaGrid, Open Science Grid, and others. This collection allows researchers and teachers access to computational, data management, distance learning, and social networking features.
HUBbub 2012 was a two day workshop held at Indiana University in Indianapolis, Indiana on September 24th and 25th, 2012. A wide variety of topics ranging from how to build a team from the ground up to presentation of previously built portals and tools were covered by individuals from around the world. Led by the director of the HUBzero project at Purdue University, Michael McLennan, the conference presented general presentations in the morning with breakout session in the afternoon which focused on actual hands-on use of the HUBzero tools and applications.
Four representatives from Elizabeth City State University attended the HUBbub conference. Matthew D. Simpson, Director of IT Client Services, Walter J. Seaman, Business and Technology Applications Specialist, Justin Deloatch, graduate student in Applied Mathematics, and Jeff Wood, Education Program Manager. Their purpose in attending was to gather information regarding HUBzero and the various applications and programs that have been developed around it to review the feasibility of implementing a hub at ECSU.

Report from Mr. Justin Deloatch
HUBbub 2012 was held at the University Place Conference Center in Indianapolis, Indiana, September 24–25, 2012. HUBzero is a unique, open source software platform for deploying and applying computational research tool, interactively visualizing and analyzing results, and managing associated data, all through a web browser.
HUBbub 2012 covered two full days, with talks in the morning and hands-on tutorial sessions in the afternoons. HUBbub invited speakers coming from a diverse group of researchers, educators and practitioners who will speak on topics in research and education, team science, and community sharing. The HUBzero conference invited over 30 speakers that have dynamic mindsets to educate, and clarify their projects to others.
This conference demonstrated to users that HUBzero is proven to:

create communities of researchers and educators in science
can easily publish your research software on the web as interactive, graphical, easy-to-use tools
can also publish educational materials alongside tools and data that the user established
built-in usage measurement and statistics reporting can impact data showing how many people have used your simulation code, when ,and where.