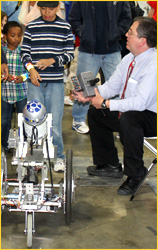 On Saturday, April 28, 2012 the Center of Excellence for Remote Sensing Education and Research (CERSER) on the campus of Elizabeth City State University sponsored a professional development experience and a field trip for public school teachers, university mathematics and computer science students, and other students from local high schools.
The 2nd USA Science & Engineering Festival was held in the Walter E. Washington Convention Center in Washington, DC.. The Expo featured more than 3,000 fun, interactive exhibits, more than 100 stage shows and 33 Author Presentations designed to inspire the next generation of scientists and engineers. All exhibits provided the opportunity to meet and talk with real-life scientists and engineers who work to answer some of the most important questions of our time in areas from human health and the environment to astronomy.
The USA Science & Engineering Festival's mission is to "... re-invigorate the interest of our nation's youth in science, technology, engineering and math (STEM) by producing and presenting the most compelling, exciting, educational and entertaining science festival in the United States."





Center of Excellence in Remote Sensing Education and Research (CERSER)
NASA NICE NNX11AM97A :: CReSIS award number FY2995-108CMI
NSF CI-Team Award # OCI-0636361
1704 Weeksville Road, Box 672, Elizabeth City, North Carolina 27909
Phone (252) 335-3696 Fax (252) 335-3790
Elizabeth City State University does not endorse, sponsor or provide material located on this site.