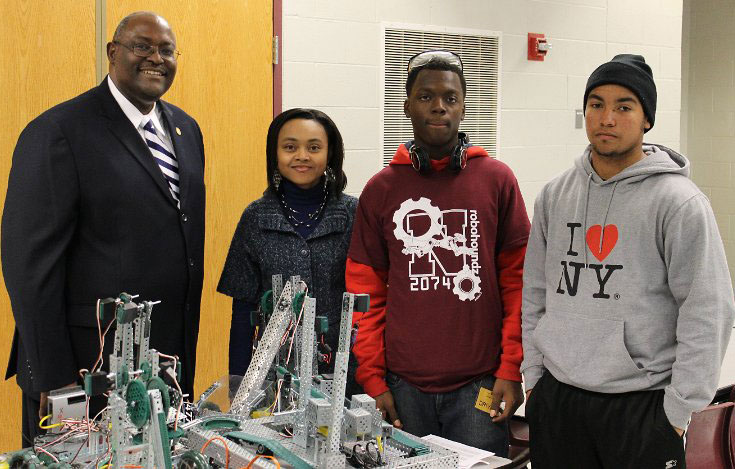 On Saturday, December 10, 2011 I. C. Norcom High School in Portsmouth, Virginia hosted the regional VEX competition.  This annual tournament, composed of nine schools and 40 teams, is a qualifying event for national and world VEX Robotics Competition.  Elizabeth City State University (ECSU) in northeastern North Carolina is a partner with Norcom High School to enhance computer applications for robotics.  The Center of Excellence in Remote Sensing Education Research (CERSER) at ECSU engages in extensive K-12 outreach by conducting interactive science lessons at underserved schools in order to provide teacher training opportunities for elementary and middle school science teachers, and hosting middle and high school summer workshops at ECSU.
In the past, CERSER and NORCOM have collaborated to provide local robotics, support for travel for national competitions and summer workshops in robotics. Students in the high school program learn about analysis and robot prototyping, testing and optimization of robot design, and Vehicle Radio Communications (VRC) Gateway game rules.  Daron Moore, a physics teacher at Norcom coordinates the robotics program and Dr. Linda Hayden is the Director of CERSER at ECSU.  In attendance at the regional competition were Eunice Smith, Mathematics Instructor at Old Dominion University and Dr. Darnell Johnson, Endowed Professor in the School of Education with an emphasis on STEM at ECSU.
Video of the competition here.