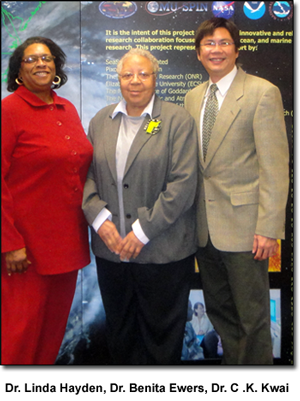 On November 29, 2011, representatives from Elizabeth City State University met for a workshop on utilizing the J-1 Visa Process. J-1 Visas are non-immigrant visas required of enrolled foreign and exchange students. This workshop was led by Dr. C. K. Kwai of The University of North Carolina Exchange Program.
Dr. C .K. Kwai has worked in the areas of International Education: Education Abroad, International Student Advising, International Admission, and Recruitment for over 13 years prior to joining The University of North Carolina Exchange Program. He has extensive experience in all aspects of Education Abroad and International Student Services from developing dual degree programs to international student programming. C. K. has a MBA and a Ph.D. in Educational Policy and Administration. He has taught and presented at a number of NAFSA: Association of International Educators National and regional Conferences, NAFSA Summer Institute, higher education institutions around the world, and NASPA: Student Affairs Administrators in Higher Education national conferences. C. K.'s research interest in higher education is centered in the fields of International Education, Intercultural Development, and Teaching and Learning. He has traveled and lived in many parts of the world and is now glad to call North Carolina home.
Participants who attended are listed below.
User Manual 1 - http://exchanges.state.gov/jexchanges/sevis/pdfs/ps-um-vol-1-610-for-web.pdf

User Manual 2 - http://exchanges.state.gov/jexchanges/sevis/pdfs/ps-um-vol-2-610-for-web.pdf

PowerPoint Presentation - http://nia.ecsu.edu/j1/J1 Understanding Basic J1 Regulations.pptx

PowerPoint (PDF Format) - http://nia.ecsu.edu/j1/J1_Understanding_Basic_J1_Regulations.pdf