| | | |
| --- | --- | --- |
| ECSU at MCNC | | |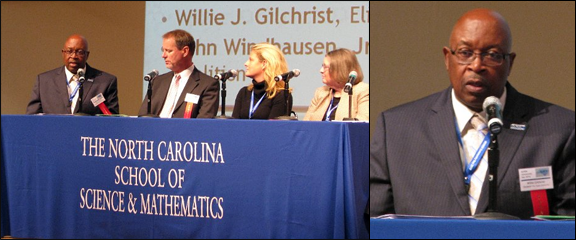 The North Carolina Research and Education Network (NCREN) supported by Microelectronics Center of North Carolina (MCNC) is a highly reliable, cost-efficient network. NCREN is not only one of the nation's first, but renowned as one of the world's leading statewide regional optical networks. During the 2010 NCREN Community Day the theme "Enhancing the Learning Experience" was targeted through keynotes, workshops, and panels to prepare NCREN users and administrators for the upcoming Broadband Technologies Opportunities Program (BTOP). In general MCNC is a company to which NCREN is the flagship product. The NCREN product will be upgraded through a federal grant named BTOP to provide high bandwidth to rural or impoverished areas around the state of North Carolina.
One highlight of the conference was a panel entitled "Impact of BTOP" in representatives of emerging NCREN communities discussed the impact of BTOP awards on their interest groups. As a planned hub for BTOP, Chancellor Willie Gilcrest of Elizabeth City State University spoke on the panel of the high tech transformations at the university through the virtual pharmacy program and forthcoming Technology Assisted Legal Instructional Services program. The two programs were possible due to telepresence capabilities presented by broadband connections. "I believe student enrollment will double with the inclusion of the fiber connection", said Dr. Gilcrest during his speech.
The conference ended with presentations from high school students of the North Carolina School of Science and Mathematics. Entitled "Technology in Action: What this Means to Students," the session focused on North Carolina students and educators showcase projects, collaboration, and opportunities that leveraged the use of NCREN technology services. The presenters made sure to drive home the point of how the technology allowed them to produce products which otherwise could not have be possible and thanked MCNC for their support.