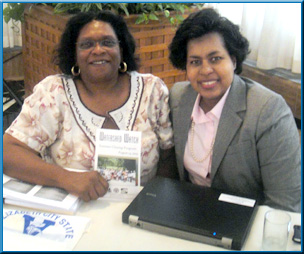 On September 21-24, 2009, Dr. Linda Hayden, Director of the Center of Excellence in Remote Sensing Education and Research at Elizabeth City State University and Dr. Julie Williams, Associate Vice President Office of the Provost and Vice President for Academic Affairs at the University of New Hampshire delivered presentations at the third annual Minority Serving Institutions (MSI) Technical Assistance and Capacity Building Conference in Addison, Texas. This conference focused on bringing in federal agencies to inform MSI's about their missions and how to create and maintain mutually beneficial partnerships.
Dr. Hayden and Dr. Williams presentations focused on their successful partnerships with federal agencies and between their universities. The presentations were entitled "Leadership Lessons In Science, Technology, Engineering and Mathematics Partnerships" and were presented in two parts. Part one focused on the universities themselves and the partnership that has developed. It included the reasons for the partnership, how it was developed, and suggestions for faculty and federal agencies. This presentation can be found here in PDF format.
The second presentation focused on partnerships with minority professional organizations . These partnerships included:

For more information on these minority partners, please view the presentation found here in PDF format.
Video presentations on the Watershed Watch partnership can be found here and here.