On November 14, 2006 in Washington, D.C. was the ground breaking Ceremony for the Martin Luther King, Jr. National Memorial. In attendance from Elizabeth City State University were undergraduates Kaiem L. Frink and Kevin Reynolds representing the Center of Excellence in Remote Sensing in Education and Research (CERSER).
This event was a national event slated to accommodate 5,000 guests. This event included Government Officials, Greek Letter Organizations, Corporate Donors, Celebrities, Families and Friends. In attendance was President George W. Bush, Bill Clinton, Jesse Jackson, Dr. Maya Angelo, Oprah Winfrey, Martin Luther King III, Bebe Winan, Jack Kemp, Tavis Smiley, Soledad O Brien, Mel Watt, Tommy J. Hilfiger. This event had so many influential individuals in attendance that contributed to what America is today. During this event we used three one Gig sticks trying to document this event with video footage and pictures. It came to a point when I filled my stick I erase all ring tones and pictures out my phone so that I could still record this event. Even when I could not see over the crowd I would record video footage on my phone off of someone else LCD screen of there video camera.
Tavis Smiley said that I'd rather have the living ideas of the dead than dead ideas of the living. Then Tavis Smiley said that I could relate to that comment. The world is always looking for the newest invention and discovery, especially with the evolving world of Technology.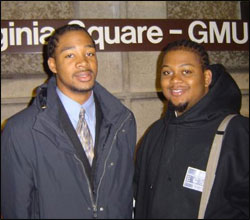 It obvious that we can tell things that Clinton did are still obvious until this day. Tavis Smiley also said tha William J. Clinton is like his fourth brother.
Dr. King was a Moorehouse Man Class of 1948, Maya Angelo recited a poem in regards to that America is finally Black!
The youngest daughter of Dr. Martin Luther King, Jr. said, If a man is not doing something that she or he is willing to die for what's the purpose of life. Then she went on to say that we must struggle together in order to work together in order to grow together but then she went on to say that we must not be ashamed to Pray to together. I believe that spiritual health is missing in this new technology era.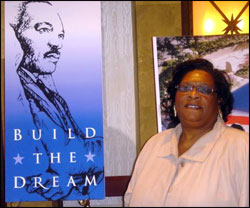 We stayed in the FDIC L. William Seidman Center, which is a high security government facility with state of the art security, Tools and measures taken.
Kids for King 3000 essay entries had 50 applicants accepted and flown into D.C. There were four finalists students from Hawaii, Augusta Georgia, and Detroit. The group of applicants was diverse with an even number of male and female. This event inspires me. Anything is possible with the proper preparation. Graduate school once seemed like something that was impossible is but now becoming the reality and just talking to the older generation inspires me not to give up and that anything is possible.
Kaiem Frink - URE Researcher