Personal Statement
My name is Jovan Jones and I am a freshmen computer science major at Elizabeth City State University in Elizabeth City, North Carolina. My objective in life is to obtain the skills and knowledge in the field of Computer Science that will allow me to have a successful career.
While attending high school, I excelled in many technology and math courses. The constant rise of technology drove me to go into the direction of my major. I feel that careers in computer fields are in demand and me going in to this area of study would be beneficial.
As a student at Elizabeth City State University, I am a member of the ONR research program. So far, the program has introduced me to UNIX, HTML, PageMaker, Adobe Photoshop, and C++. Besides the encouraging conferences and seminars during the school year, ONR promotes different summer internships for its members. I plan for my summer of 2002 to be spent at a University or company as an intern.
After completing my bachelor studies, I will attend graduate school for my master's degree in Computer Science. Once I have received my master's degree I plan to strive for my doctrine.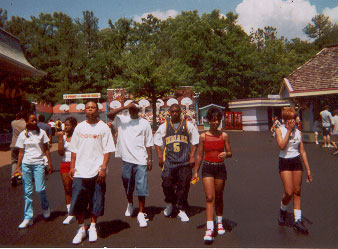 A Day at Kings Dominion