Wonderful Weblinks:
Statements of Purpose


ECSU

N.A.S.A.


COASTAL.com


FermiLab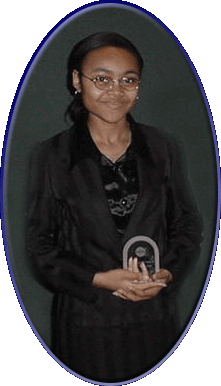 Feel free to email me!
Hi and welcome to the wonderful webworld of Eunice Smith. I am currently a Sophomore Applied Mathematics and Computer Science major at Elizabeth City State University of Elizabeth City, NC and a graduate of I.C. Norcom High School of Portsmouth, VA. Life is short, so I try to live each day to the fullest. Please feel free to check out my webpage to find out more about me. Let me know what you think. Have a wonderful, extraordinary day!