This project represents a joint effort by the North Carolina Department of Fisheries, The National Oceanic and Atmospheric Administration (NOAA), Elizabeth City State University, The MU-SPIN Office of Goddard Space Flight Center, and The Naval Research Office of Remote Sensing and Space. It is the intent of this project to exposed HBCU students to DOD, NASA and NOAA research and to develop innovative and relevant research collaboration focused on coastal, ocean and atmospheric research.

Academic Year Program
The project involves the design of an academic year research project, which cross references sea surface temperature data, which is concordance with Turtle Catch Long Line data from the National Fish Service and NOAA's National Marine Fisheries Service. During the academic year students from Elizabeth City State University will be actively involved in processing of the data and posting of results.

Training of undergraduates through research, field work and observations is imperative in the university's goal of producing quality students well prepared to enter graduate school or to pursue careers in ocean, marine and atmospheric science. These undergraduate research projects will go a long way towards making these goals a reality.
Summer Undergraduate Research Experience in Ocean, Marine and Atmospheric Science Program
During the summer of each year an 8-week undergraduate research-training program will be conducted at ECSU, which will involve undergraduate students, from universities across the nation. Visiting lectures during the academic year and summer will involve scientist from all the collaborating agencies

The objective is to encourage careers in ocean, marine and atmospheric science; and to promote the professional development of minority undergraduates through their participation in ongoing wetlands, ocean and marine science research within the coastal environment of northeastern North Carolina.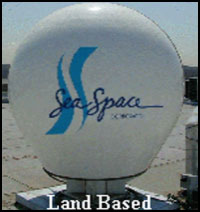 SeaSpace TeraScan Remote Data Sensing System
To support the program, SeaSpace and ECSU have provided a SeaSpace TeraScan SeaWiFS system. SeaSpace is the world's leading weather information provider. The TeraScan SeaWiFS and HRPT system is composed of the following components: Polar Orbiting Tracking Antenna (1.5m); Global Positioning System (GPS) Antenna/Receiver; Telemetry Receive; SGP Interface Unit (SGPI); Uninterruptible Power Supply (UPS); and the TeraScan Software Suite.
The TeraScan system provides Advanced High Resolution Radiometer (AVHRR) and Sea Viewing Wide Field of view sensor (SeaWifs) data from Polar Orbiting Satellites.