Focus 2000
January 13-16, 2000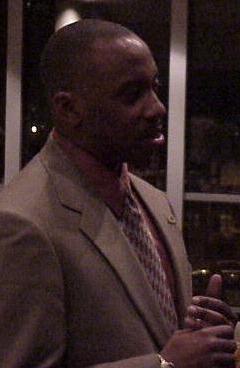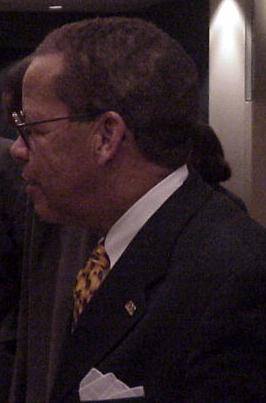 Left: FOCUS Dinner Speaker, Dr. Calvin Mackie, Asst. Prof of Mechanical Engineering, Tulane University. Right: Mr. Rober Haley, GaTech Director of Special Projects.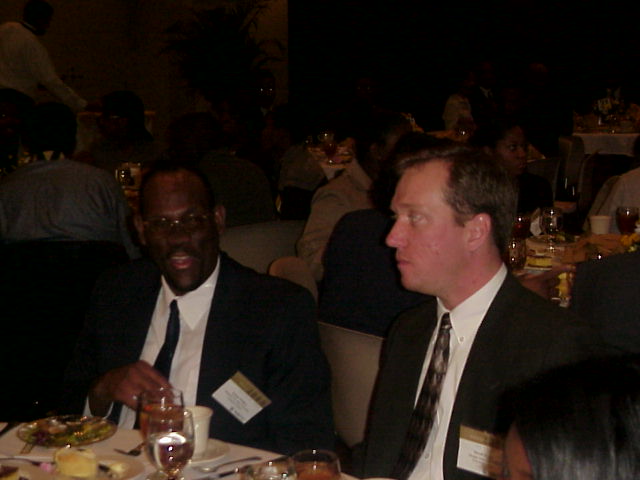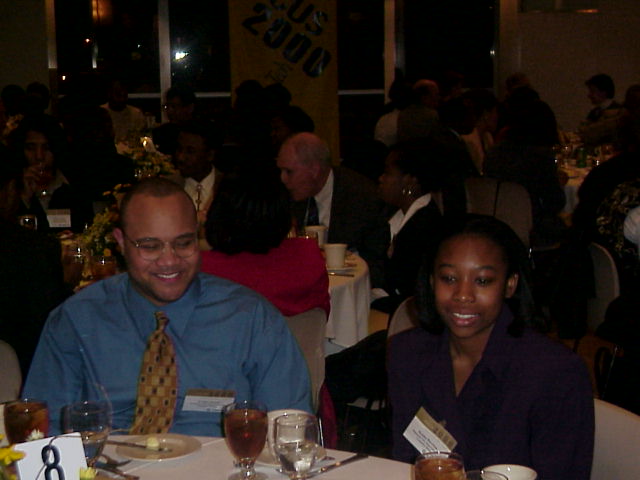 FOCUS 2000 Attendees - Above: Ernest Walker, Je'aime Powell, Keisha Harrison. Below: Dr. Cheryl Lewis, Mrs. Marie Koltuniak, and Ravinder Kaur. Not Shown: Dr. Linda Hayden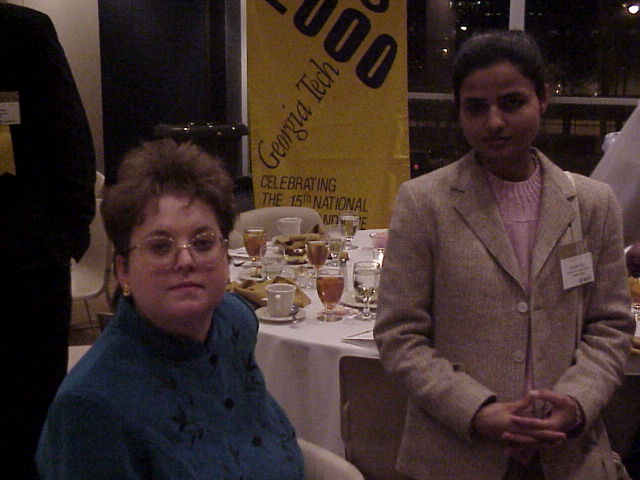 About Calvin Mackie, Ph.D.
Co-Founder Channel ZerO
Assistant Professor of Mechanical Engineering,
Tulane University



As an undergraduate, Mackie was a dual-degree achiever. In 1990, he earned a Bachelor of Mecanical Engineering degree from Georgia Tech and a Bachelor of Science in Mathematics from Morehouse College, where he graduated magna cum laude. Two years later, he earned a Master of Science in Mechanical Engineering from Georgia Tech. In March 1996, he was conferred the Doctor of Philosophy degree in Mecanical Engineering.

A member of the Phi Beta Kapp, Pi Tau Sigma and Tau Beta Pi National Honor Societies, his passion for scholarhip is well established. While pursuing his doctorate degree, he served as an instructor of mathematics, including intermediate algebra and pre-calculus at Morehouse College. He also tutored students in engineering graphics in the Atlanta University Center Dual Degree Program. Committed to community service, his involvement's have included the High School Outreach Program, Big Brothers and Big Sisters and the NAACP. He is an active member of the 100 Black Men of Metro New Orleans and the Board of Directors of Big Brothers/Sisters of Southeast Louisiana.

He has been active on the public speaking circuit for nearly ten years, initially, giving motivational presentations and speeches at high schools and middle schools about science, engineering and mathematics. In 1992, he co-founded Channel ZerO, an educational and motivational consulting company. He operates under the premise that exposure and experience are two important parameters of success and his approach to working with people is simple and practical, using unique strategies and methodologies to motivate and inspire.

In addition to his involvement with Channel ZerO, Mackie is an assistant professor of mecahnical engineering at Tulane University In New Orleans, LA, specializing in heat transfer and fluid dynamics. In November 1999, he was awarded a patent on a device to retrofit luggage stowbins on 737 and 757 Boeing commerical airliners. He also authors a motivational column entitled, "Thing About it!" for the Black Collegian Magazine. Dr. Mackie is married to the former Miss Tracy Ransom

"Greatness lies within each and everyone of us"
Schedule of Events
Thursday, January 13
1:00pm - 5:00pm
FOCUS 2000 Participants Arrival Fairfield Inn, FOCUS Registration(Participants must be present)
6:00pm - 8:00pm
Reception, Sheraton Hotel 165 Courtland Avenue
Friday, January 14
6:30am - 7:45am
Continental Breakfast/Hotel
8:00am
Depart for Student Center
9:00am - 12:0pm
Introduction to Colleges Student Center Theater Georgia Tech
12:00pm - 1:00pm
Lunch, Student Center Cafeteria
1:15pm - 3:45pm
Return to Student Theater Break Out by Departments (Visit Departments)
3:45pm
Free Time
4:45pm
Depart for Hotel(optional)
6:00pm
Depart for Student Center
6:30pm - 8:30pm
FOCUS 2000 Dinner Student Center Ballroom
Saturday, January 15
6:30am - 8:30am
Continental Breakfast/Hotel
8:30am
Depart for Student Center
9:00am - 10:00am
Financial Assistance
10:00am - 12:00pm
Panel Discussions
12:00pm - 1:00pm
Lunch, Student Center Cafeteria
1:00pm - 2:00pm
Panel Discussions
2:00pm - 3:00pm
Dr. Calvin Mackie Channel Zero
3:00pm - 3:30pm
Depart for King Center/Apex Musuem
3:30pm - 7:00pm
Tour of King Center/Apex Musuem
7:00pm - 8:00pm
Dinner
8:00pm
Free Time
Sunday, January 16
10:00am - 11:00am
Ecumenical Service The Georgia Center for Advanced Telecommunications Technology (GCATT)
11:15am - 1:00pm
Brunch Student Center Ballroom
Closing of Program
Departure


Return to ONR