President Bush Honors Excellence in Science, Mathematics and Engineering Mentoring
ARLINGTON, Va.—President Bush today announced nine individuals and eight institutions to receive the 2003 Presidential Award for Excellence in Science, Mathematics and Engineering Mentoring (PAESMEM). Each award includes a $10,000 grant for continued mentoring work.

Each year the president recognizes the people and institutions that have provided broad opportunities for participation by women, minorities and people with disabilities in science, mathematics and engineering in elementary, secondary, undergraduate and graduate education.

The National Science Foundation (NSF), an independent federal agency that supports fundamental research and education programs across all fields of science and engineering, administers the awards on behalf of the White House. In the eight years the awards have been made, 78 individuals and 62 institutions have been recognized. The program allows for an annual maximum of 10 awards each for individuals and institutions.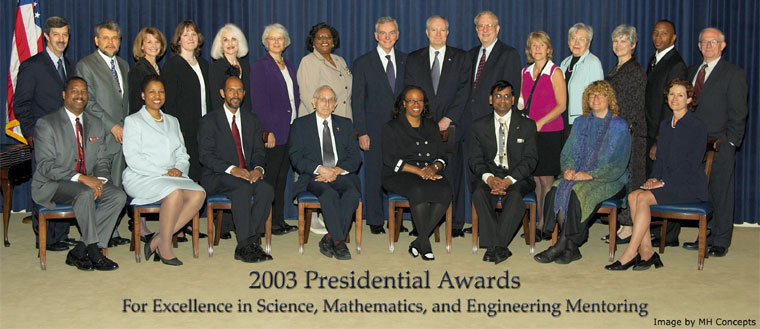 Recipients of this year's individual awards include a range of professionals from biology and chemical engineering to computer science and medicine. Their innovative approaches include comprehensive programs and enrichment activities for K-12 students to initiatives aimed at reaching a continuum of students from early childhood through undergraduates, using such community resources as schools and churches.

Recognized in a ceremony today at the Eisenhower Executive Office Building were: Chellu S. Chetty, professor of biology, Savannah State University; Denice D. Denton, dean of engineering, University of Washington; Christine S. Grant, professor of chemical engineering, North Carolina State University; Linda Bailey Hayden, professor of computer science, Elizabeth City State University; Rudolf E. Henning, professor of electrical engineering, University of South Florida; Ellis Ingram, University of Missouri-Columbia; Calvin Mackie, associate professor of mechanical engineering, Tulane University; Lisa Pruitt, professor of biomedical engineering, University of California-Berkeley, and; Margaret Werner-Washburne, professor of biology, University of New Mexico.

The institutional awards recognize organizations that have developed mentoring approaches that encourage improved achievement, keeping young students in the "pipeline" of science, engineering and mathematics education, and creating peer mentoring programs.

The institutional honors went to: American Physiological Society; Center for the Advancement of Hispanics in Science & Engineering Education; Committee on the Status of Women in Computing Research, Computing Research Association (CRA-W); CONNECT, University of California at Riverside; Alfred P. Sloan Foundation's "Increasing Ph.D.s for Underrepresented Minorities;" National Society of Black Engineers; Science and Technology Programs, New York State Department of Education, and; Women in Engineering Program (WEP), Pennsylvania State University.

Collectively, the 2003 awards recognize exemplary mentoring programs nationwide, from New York to Florida, and westward from Pennsylvania to California. Four of the eight institutional awards were to organizations in or around Washington, D.C.