On November 8-10, four students from Elizabeth City State University (ECSU) attended the National Technical Association's (NTA) 76th National Conference and Technical Career Opportunity Fair held on the campus of Tuskegee University in the Kellogg Conference Center. Representing ECSU at the conference were Napoleon Paxton, Jerome Mitchell, Demetrus Rorie, and Erica Pinkney. These students were able to present their research from the summer of 2004 during the conference. The students are shown below with Dr. George Carruthers.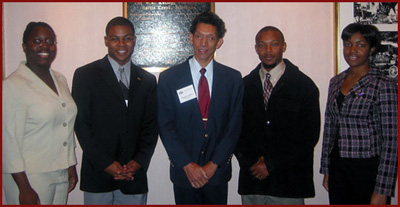 The theme of the NTA's 2004 National Conference and Technical Career and Opportunity Fair was "Science & Technology: The Research, The Business, The Impact on HBCUs and MIs". The conference was originally scheduled for September 14-18 but because of the severe weather from Hurricane Ivan it was rescheduled to November 8-10.
Keynote speakers included:
Dr. William Lupton, chairperson, Department of Computer Science, Morgan State University
Garry A. Harris, HTS Enterprise
Dr. Amanda H. Goodson, Raytheon Company
Mr. William D. Magwood IV, US Department of Energy
Dr. Fredrick Humphries, director, Center for Science and Engineering Policy, Florida A&M University
Dr. Larry Foulke, P.E., Chief Scientist, Space Engineering Activity, Bechtel Bettis, Inc. was the theme speaker at the Celebration of Nuclear Excellence and Diversity Luncheon on Monday, November 8.
Several individuals were awarded at the National Technical Achievers Awards Banquet on Wednesday. They included:
Dr. Sonya Roberson, National Institute of Health / National Cancer Institute
Dr. Andrea W. Lawrence, Spelman College
Ernest Levert, Lockheed Martin Missiles and Fire Control
Dr Willie Rockward, Morehouse College
Wanda Harding, NASA Kennedy Space Center
Carlos Morrison, NASA Research Center