The Geoscience and Remote Sensing Society annually sponsors the International Geoscience and Remote Sensing Symposium (IGARSS), the premier world conference on this topic. Held annually with alternate years in North American and International venues, this prestigious meeting has become an international focus of remote sensing programs, applications and activities. Each year it draws hundreds of scientists and engineers from around the world to become familiar with current research and technology and to discuss instruments, techniques, models, uses and programs of global interest.
This year's conference was held in Toulouse, France. ECSU was represented by Dr. Linda Hayden, CERSER PI and Mrs. Keisha Wilkins, CERSER Research Associate, who both made poster presentations during the conference. Tours of Toulouse and additional sights in transit provided an excellent chance for the representatives to interact with the people os Europe. Toulouse is home to the French National Space Agency (CNES) and one of the world's largest aircraft assembly facilities, Aerospatiale. Toulouse offered the IGARSS attendees insight into vast technology advances.
Mr. Charles Luther, President of the IEEE-GRSS delivered an address on the accomplishments and goals of the society. Included in his remarks were statements about the application by ECSU for a chapter. Listen to his statements here.
This year's theme was Learning Earth's Shapes and Colors. 149 topics were arranged into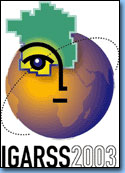 7 sections, including:
Applications of Remote Sensing
Mission and Programs
Geoscience, Modeling, & Processing
Data Processing & Algorithms
Electromagnetic Problems
Instrumentation & Techniques
Policy, Societal Issues, & Education Initiatives