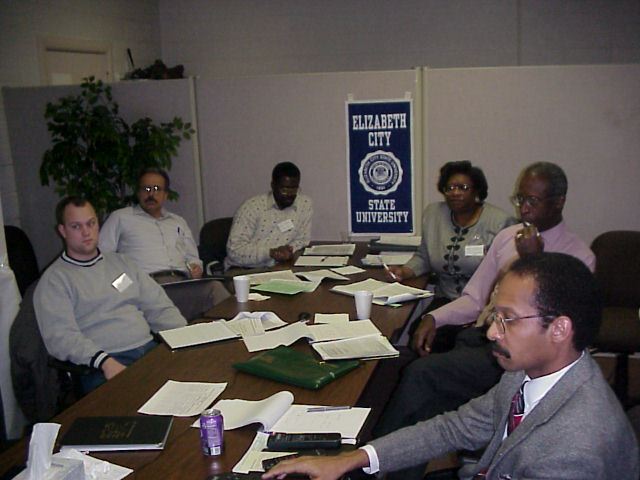 Left to Right:

Sam Chambers, Geoscience Lab Manager
Dr. Islame, Technology Professor
Mr. Jonathan Graham , CS Dept Norfolk State University
Dr. Linda Hayden, NRTS Principal Investigator
Dr. William Porter, Geoscience Professor
Mr. Robert Harris, NRTS Network Manager
The Institute for Global Environmental Strategies (IGES) announces an opportunity to participate in the Earth System Science Education Alliance (ESSEA) in an innovative professional development program. ESSEA is a partnership among IGES, the Center for Educational Technologies(CET) at Wheeling Jesuit University, and NASA's Earth Science Enterprise(ESE). Its objectives are to:
Promote the growth of knowledgeable and well-equipped K-12 Earth system science educators through on-line professional development courses;
Demonstrate the effectiveness of the World Wide Web in the promotion of professional development of K-12 Earth system science educators; and
Respond directly to the need to prepare more teachers to meet the demand of a growing U.S. student population.
To meet these objectives, ESSEA will provide funding which support universities, colleges, and science education organizations in offering K-12 online graduate courses that have been developed for NASA's ESE by the CET at Wheeling Jesuit University. Discussion of the proposal guidelines will be an integral part of the videoconference. For more information about the ESSEA program, please see the program's WWW site at http://www.cet.edu/essea
Return to NRTS