MESSENGER For K-8 Teachers and Education Majors
March 23, 2004 2:30pm - 6:30pm 229 Dixon Hall

Featuring: Stephanie A. Stockman
Education/Public Outreach Project Manager and Team Lead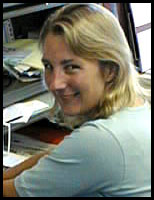 Stephanie Stockman has been with Science Systems and Application, Inc., since 1993, first as a Mars researcher and then as an education and outreach specialist. She was the education coordinator for the NASA/Goddard Space Flight Center Laboratory for Terrestrial Physics and currently coordinates the Education/Public Outreach efforts of the Landsat 7 Project Science Office and EOS Aura at Goddard in addition to MESSENGER. In her MESSENGER role she will assure that the Education/Public Outreach plan becomes reality and fulfills its goals on time and within budget.
During this workshop participants were introduced to a variety of resources for their classroom and professional development opportunities. The MESSENGER Education Modules contain standards-based educational materials and lesson plans developed by the MESSENGER team. Participants learned about activities and lesson plans that are related to either MESSENGER or other NASA Missions.

Schedule of Events
2 pm Registration begins
2:30- 3:00 pm
Welcome by Dr. Eileen I. Oliver, Dean School of Education/Psychology
Introduction of Participants – Dr. Barbara Johnson, Professor of Education
Teleconference with Dr. Linda Hayden, Principal Investigator
NASA Network Resources and Training Site

3:30 - 4:00 pm
Review of the NASA Education, MESSENGER & ERC Websites by ECSU Students:
Kenya Leigh Whittington, Anthony Marshall Moore, and Deborah Creekmore West
4:00 - 5:30 pm
Introduction of Workshop Leader by Dr. Barbara Johnson

Stephanie A. Stockman
Education/Public Outreach Project Manager and Team Lead
K-8 Activities and Lessons Related to MESSENGER and Other NASA Projects
5:30 pm Closing and Evaluation - Dr. Barbara Johnson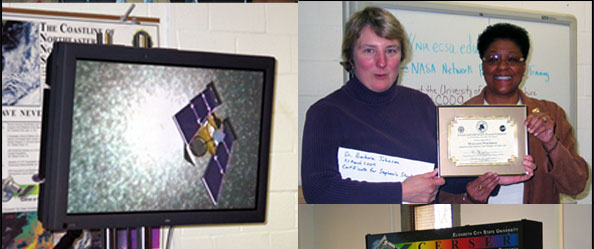 ---
NASA Network Resources and Training Site
Elizabeth City State University
Elizabeth City, NC 27909
http://nia.e.csu.edu/nrts.html