Middle school teachers from W.E. Waters & Churchland, Portsmouth, VA; Anne Chesnutt, Fayetevillle, NC; & Brawley, Scotland Neck, NC; working with the You Be the Scientist program,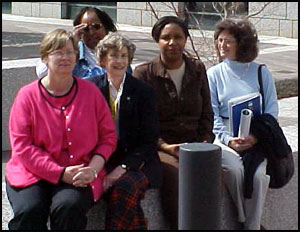 sponsored by NASA at ECSU, attended the Satellite Conference for Educators in March. These educators joined a large number of middle and high school science teachers, scientists, and others with an interest in satellite remote sensing. The ECSU educators were able to enjoy a pre-conference tour of the National Climatic Data Center, the largest climate archive in the World. Data collected by Thomas Jefferson, Benjamin Franklin, & many other historic figures, are on display, as well as current new data.
The purpose of the meeting was to provide a broad overview of how satellite data is being used in a variety of applications including meteorology, oceanography, forestry, fisheries, geology, & the monitoring of natural & man-made hazards. Attendees learned of a broad scope of topics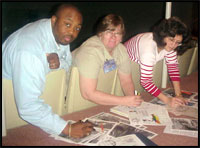 showing how environmental satellites are being used everyday. Presentation themes included the Southeastern United States, Western Atlantic, & Caribbean Sea. Many of the speakers came from organizations in the Southeast. Several schools participating in various imaging projects also shared many ideas of how this new technology can be woven into the classroom curriculum for students of middle through high school age. The hands-on training for interpreting satellite imagery commonly found on the Internet was a popular & very rewarding highlight.
The following organizations were represented by the speakers: NOAA National Weather Service, National Climatic Data Center, University of North Carolina-Asheville, NASA Goddard Space Flight Center, Florida State University, NOAA Space Environment Center, Naval Atlantic Meteorology &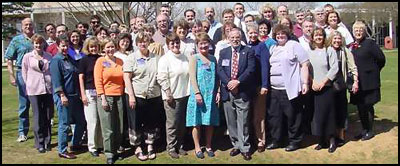 Oceanography Center, US National Ice Center, State University of West Georgia, & Science House-NC State University.
Attendees from the YBTS program were:
Patricia Horton-Jackson from Churchland, Portsmouth
Karen Steele from Anne Chesnutt MS, Fayetteville
Sherrye Pollard from W.E. Waters MS, Portsmouth
Devonne Hunter from Brawley MS, Scotland Neck
Aileen Seshun-YBTS Coordinator