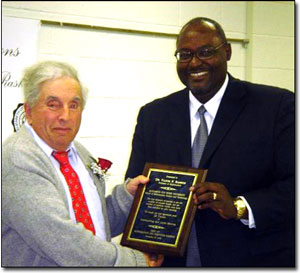 On Thursday, November 30, 2006 a retirement reception was held at the K. E. White Graduate Center for Dr. Vadim Raskin, Professor, Elizabeth City State University.

Dr. Darnell Johnson, Chair of the Mathematics and Computer Science Department, was the Master of Ceremony. Dr. Johnny L. Houston, Senior Research Professor, delivered reflections on Dr. Raskins career .

Remarks by were given by faculty from the Department of Math. & Computer Science as well from former students and special guests. The reception concluded with remarks from Dr. Raskin and Mrs. Raskin.

Dr. Raskin requested a moment of silence in honor of the past two chairs of the Mathematics and Computer Science Departement, Dr. Georgia Lawrence and Dr. Sohindar Sachdev. His past students praised his teaching style which required students to show their excellence. The following links are to short clips of some of the comments from the reception.