Elizabeth City State student heads way south for winter
By CHRIS DAY
Sunday, December 18, 2005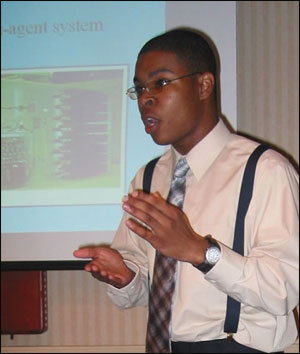 Some people might say think it gets a bit cold in Elizabeth City, but one Elizabeth City State University student is about to experience firsthand a land where cold takes on a whole new meaning.
Jerome Mitchell, 20, a computer science major, is flying to McMurdo Station, Antarctica, Sunday, to begin six weeks of research in a project sponsored by the National Science Foundation. McMurdo Station is the largest Antarctic research station.
According to the NSF, the average temperature at McMurdo in January is a balmy -3 degrees Celsius, or 27 degrees Fahrenheit. However, the temperature drops to a bone-chilling -28 C, or -18 F by August, which is mid-winter in the Southern Hemisphere.
Mitchell, a junior from Chesapeake, Va., said he is going to Antarctica to research global warming.
Global warming theorizes that the Earth is gradually becoming warmer because certain gases, known as greenhouse gases, are trapping the sun's heat within Earth's atmosphere and causing what is known as a greenhouse effect.
According to Mitchell, scientists have determined that the Earth's average temperature has risen 1 degree Fahrenheit in the last century. This increase has been attributed to global warming.
Some scientists speculate that global warming could lead to a dangerous increase in sea levels if the polar ice caps begin to melt. If so, an increase in sea levels in the Atlantic Ocean could threaten the North Carolina coast, Mitchell said.
In Antarctica, Mitchell will use a robot to test density levels of the ice to determine if indeed it is melting.
"I will be doing field-testing with a robotic rover that will actually measure the characteristics of ice sheets," he said.
Mitchell explained that the robot he'll be working with is self-guided. While the robot is in the field collecting data, Mitchell will be miles away in a laboratory analyzing the data transmitted by the robot.
The robot uses ground-penetrating radar to measure changes in the thickness of ice and transmits the information to a computer via satellite, Mitchell said. Changes in the thickness of ice in some locations could indicate that it is melting, he said.
The robot probes the ice in two modes, either biostatic, which is a zigzag pattern, or monostatic, in a straight line, Mitchell said.
The two patterns are used "so you can effectively measure the ice processes," he said.
Although Mitchell said he's excited about the opportunity to travel to Antarctica, he will be missing out on some important dates.
"I'm very excited (and) I can hardly contain myself," he said. "I'll be there six weeks, even for Christmas, New Years and my 21st birthday."
Mitchell said he hopes his research trip will lead to similar opportunities for other ECSU students.
He's traveling to Antarctica with students from the University of Kansas, where he spent the last two summers conducting polar-ice research.
ECSU, the University of Kansas, and other institutions received a $26 million grant last year from the National Science Foundation to conduct a joint study of changes in global climate. ECSU's share of the grant was $2 million.
Mitchell said his trek to Antarctica starts Sunday at Norfolk (Va.) International Airport where he'll fly to Los Angeles, and on to New Zealand. A U.S. military transport plane will fly him to McMurdo Station, he said.