The Altarum Institute (formerly ERIM), in collaboration with the Alliance for Marine Remote Sensing (AMRS), hosted the 8th International Conference on Remote Sensing for Marine and Coastal Environments in Halifax, Nova Scotia Canada. This three-day event featured over 200 oral and interactive poster presentations within 21 technical sessions, along with plenary and panel discussions.
Keynote Speaker:
Marc Garneau, President of the Canadian Space Agency
- Canada's First Astronaut
- Biography

Representatives from Elizabeth City State University (ECSU) included Dr. Linda Hayden, Eunice Smith, Napoleon Paxton, Demetrus Rorie, and DeQuincy Faulcon. Each of the students gave presentations at the conference focusing on the efforts and research completed with the Center of Excellence in Remote Sensing Education and Research (CERSER) at ECSU.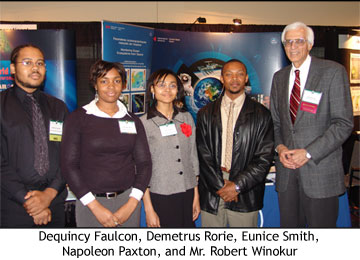 The theme of the symposium was to bring together internationally recognized technologists and end-to-end users from government, industry, and academia to address "bridging the gap of research to marine and coastal operations." In addition to operations, the symposium also addressed the issue of an effective integrated response (models, monitoring and measurement, predictions, decision support systems, and assessments) to coastal and marine policy requirements. The conference also focused on integration of remote sensing and in situ data, local and regional models and non-spatial data for marine and freshwater coastal assessments and resource management.